CLASS 46

Now in its twelfth year, Class 46 is dedicated to European trade mark law and practice. This weblog is written by a team of enthusiasts who want to spread the word and share their thoughts with others.
Who we all are...
WEDNESDAY, 19 SEPTEMBER 2018
How to save the UDRP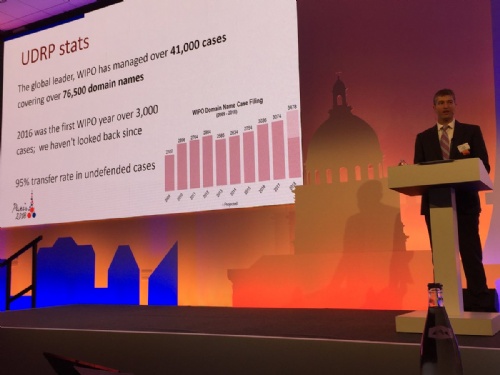 Annual Conference delegates were brought up to date on the planned ICANN review of the UDRP system today. Nick Wood of Com Laude said that the MARQUES Cyberspace Team is closely monitoring it and "We are requesting that the ICANN review is a data-driven review." He added that MARQUES estimated that brand owners have spent at least $500 million filing UDRP cases since 1999, while respondents have paid very little.
Willem Leppink of Ploum and Georges Nahitchevansky of Kilpatrick Townsend, who are both UDRP panellists, explained that different stakeholders have raised a number of issues to be addressed in the review, including:
Should "registered and used in bad faith" be changed to "registered or used in bad faith"?
(Claimed) conflicts of interest: should panellists also represent parties?
Should all panels be three-person panels? And should there be appeals?
Penalties: should the loser pay? Should there penalties for attempted reverse domain name hijacking?
How can defaults be best managed?
George and Willem's 7 tips for UDRP claimants
Don't take it too lightly - understand the policy and what you need to prove; read WIPO Overview 3.0
Domain name disputes are not the same as trade mark law cases
Ensure your complaint is clear and includes all facts and arguments
But: don't make it too complicated!
Go to court if there is no grabbing
Account for post-UDRP issues
Do not file questionable cases - you risk undermining the system!
Brian Beckham of the WIPO Arbitration and Mediation Center said that domain name cases are evolving but added: "One of the concerns is that the UDRP hasn't changed in 20 years but we believe the framework has given panellists flexibility. We're worried about that flexibility's being undermined. Our message is that the UDRP is working and we should leave it to do its job."
Aimee Gessner of BMW Group discussed BMW's approach to the UDRP and in particular how it prioritises cases (ie, if the domain reflects a main brand, if the domain is needed for its own use or if there is actual use of the domain) and whether to use UDRP or local trade mark law. Cases where the UDRP was useful included b.mw (the first ever case over .mw – the ccTLD for Malawi), bmwetk.com, bmwfinanceira.com, cartesbmw.com, bmwispi.com and bmwista.com.
Nick urged MARQUES members and other trade mark owners and practitioners to get involved in the review process by sharing their views and concerns, and attending an ICANN Meeting in person if possible.
Posted by: Blog Administrator @ 17.08
Tags:
Annual Conference
,
UDRP
,
WIPO
,
ICANN
,



Sharing on Social Media? Use the link below...
Perm-A-Link:
https://www.marques.org/blogs/class46?XID=BHA4675
Reader Comments: 0
Post a Comment
MARQUES does not guarantee the accuracy of the information in this blog. The views are those of the individual contributors and do not necessarily reflect those of MARQUES. Seek professional advice before action on any information included here.
The Class 46 Archive