CLASS 46

Now in its twelfth year, Class 46 is dedicated to European trade mark law and practice. This weblog is written by a team of enthusiasts who want to spread the word and share their thoughts with others.
Who we all are...
THURSDAY, 14 DECEMBER 2017
Switzerland: top ten trade mark agents over the last ten years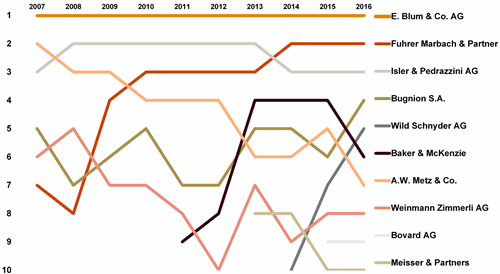 For the last ten years, I have annually posted the trade mark agents from Switzerland with the most new national filings (without renewals or change of ownership), see for example here the post for 2016 (latest available data). The data is from the Swiss national registry Swissreg; for a brief explanation of the methodology, see the post linked.
The above chart shows the relative position of the top ten ranked firms from 2016 over the last ten years, since 2007. E. Blum & Co is the undisputed champion, holding on to the number 1 position for the entire time. Notable is the rise of FMP Fuhrer Marbach & Partner from number 7 to number 3. Wild Schnyder really put itself on the map in the last three years, coming from outside the top ten to number 5. A.W. Metz & Co AG has seen a steady decline from number 2 to number 7.
Note that this ranking is based purely on quantitative data and says nothing about the quality of the services provided.
This will be my last post on Class 46. Having been elected President of the Swiss Federal Patent Court in June 2017, I will take office on 1 January 2018 and cease all blogging activity. It was a blast while it lasted!
Posted by: Mark Schweizer @ 13.15
Tags:
Switzerland
,
rankings
,
representatives
,



Sharing on Social Media? Use the link below...
Perm-A-Link:
https://www.marques.org/blogs/class46?XID=BHA4583
Reader Comments: 2
Post a Comment
Submitted By: Birgit Clark
15 December 2017 @ 09.16
Thank you so much Mark for all your fantastic blog posts over the years. We will miss your insights and wish you all the very best for your new position as President of the Swiss Federal Patent Court! Dankeschoen!!
Submitted By: Tove Graulund
03 January 2018 @ 10.29
Dear Mark, Thank you for making the compilations. I have enjoyed looking at them every year. Congratulations and best of luck in your new position. Sounds very impressive.
MARQUES does not guarantee the accuracy of the information in this blog. The views are those of the individual contributors and do not necessarily reflect those of MARQUES. Seek professional advice before action on any information included here.
The Class 46 Archive