CLASS 46

Now in its twelfth year, Class 46 is dedicated to European trade mark law and practice. This weblog is written by a team of enthusiasts who want to spread the word and share their thoughts with others.
Who we all are...
TUESDAY, 4 OCTOBER 2016
2016 MARQUES annual event in Alicante - GI's- Designs- Rebranding updates
Geographical indications make for a tasty session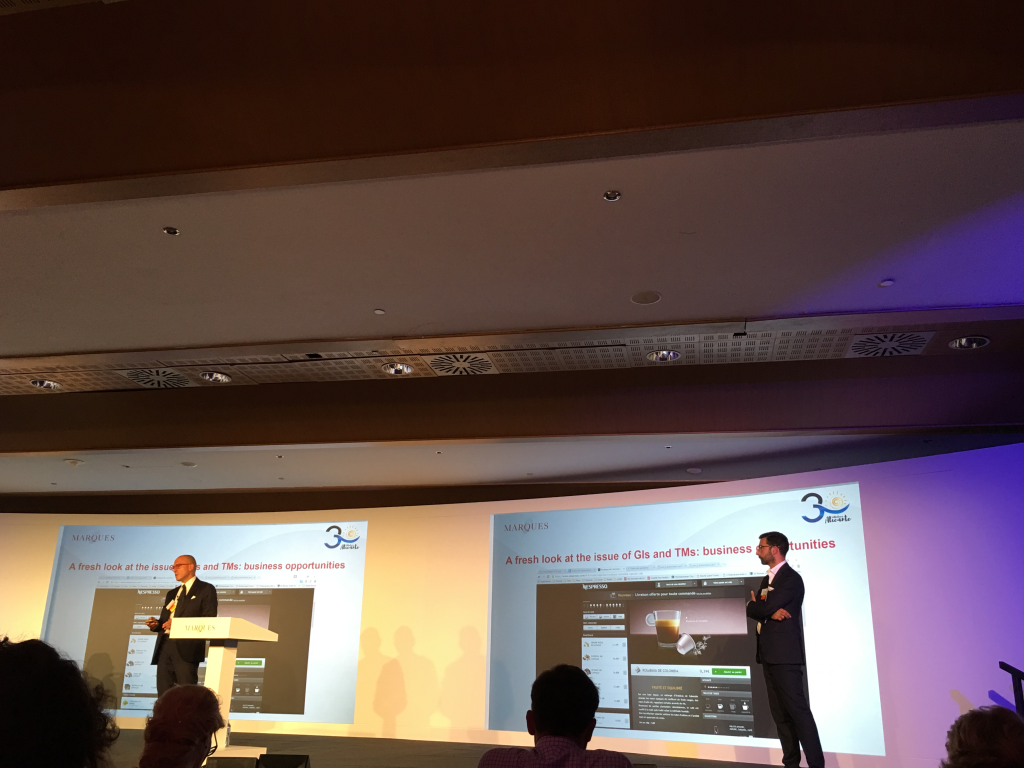 Thera Adam Van Straaten (Kneppelhout Korthals) chaired this session reviewing the latest developments regarding GI's and how they overlap with trademarks as well as examples of good and bad use. Miguel Angel Medina (Elzaburu) covered the EU cases of GI's v. TM's for beverages (e.g.: caf� de narino, champagne, coroa d'ouro, paramos del duero) highlighting that GI's for wines and spirits have an enhanced protection, independently of their misleading character. Thera ended up with an open question to Miguel regarding a possible infringement of Port wine (Porto) by Portobello mark. Oscar Mondejar (EUIPO) then proceeded to cover the legislative evolution of protection of GI's in EU trademark law and bilateral agreements in force in the EU. The EUIPO will follow a more systematic approach to look at the level of protection granted in the EU and will then rely on the sui generis legislation. The Office will also try to give at a fair balance between IP rights and owner's interests. There is still little guidance from case-law and the practice will evolve progressively: for example, the Calvados/ Verlados (CJEU, C-75/15) provides a good precedent on the evocation test -how a link must be established between the product and the GI - but there is no need for actual likelihood of confusion. Massimo Vittori (OriGin) summarized why the protection of GI's matter-from increased revenues to promoting sustainable development. He covered a specific case where a pragmatic solution was found regarding the coexistence of 'prosciutto di Parma' and the use of the TM "parma" in Canada. Alessandro Sciarra (Bird & Bird) concluded by taking a fresh look at business opportunities between the use of GI's listed as ingredients in the final product (i.e: Prosecco, Nespresso, Asiago cheese and pasta) to be balanced against the labelling regulations. This approach is already in place in the food mecca which is Italy: McDonalds uses 'parmiggiano reggiano' GI cheese, railways company partners with Parma ham, Quality private labels are sold exclusively by supermarkets; similar initiatives are seeing the day in Tesco in the UK.
Designs update
Sebastian Fischoeder (Bird & Bird) chaired a session covering the latest EU design developments. Some of the highlights are as follows: Sara Söderling (Setterwalls Advokatbura) prepared a wonderful presentation about graphic User Interfaces by showing examples of an application for runners and referring to a cancellation decision from the BoA regarding Apple's Interface . Kelly Bennett (EUIPO) introduced the legal review on Industrial Design Protection in Europe. In her opinion the study does not give any ground-breaking recommendations but include: a need to have a closer look and/or revise the definition of "Design", look at Freedom of Designer in Technical Function, restrict issues of component parts, further review of 3D Printing and relationship between the individual character and industrial sector, etc. The conclusion of the study is that there is no real need for revision as Design law is organically developed by case-law. Erik Lindevang Madsen (Louis Poulsen A/S) gave an overview on their practice of which Designs are the Major Assets. Enforcement wise, they usually use both proceedings: civil and criminal, and closely work with customs and criminal prosecution authorities. In one successful case, the defendant was sentenced to 2 1/2 years in Prison (Head of a "infringement Ring"). He also mentioned this interesting initiative in Denmark regarding the Code of Conduct to promote lawful behaviour on the Internet
MARQUES workshops
On Thursday afternoon, MARQUES attendees had the opportunity to discover the EUIPO headquarters which hosted 3 workshops: 1. the Enforcement Database -organized by the Anti counterfeiting and Parallel Trade team; 2. an interactive Mediation session led by BOA's President Theophile Margellos and 3. a vision of the future on the classification and searching tools and Key User services developed by the Office.
This blogger participated in the Rebranding workshop held in Villiatana organized by the Brands & Marketing team which considered the "what/why/how" of re-branding from legal, marketing and PR perspectives. The panel chaired by Imogen Fowler covered rebranding stories of historical products/services by TM counsels from Mars (Philippe Claude) and Google (Christine Hsieh). Arthur Artinian (K&L gates) summarized the best practice tips checklist as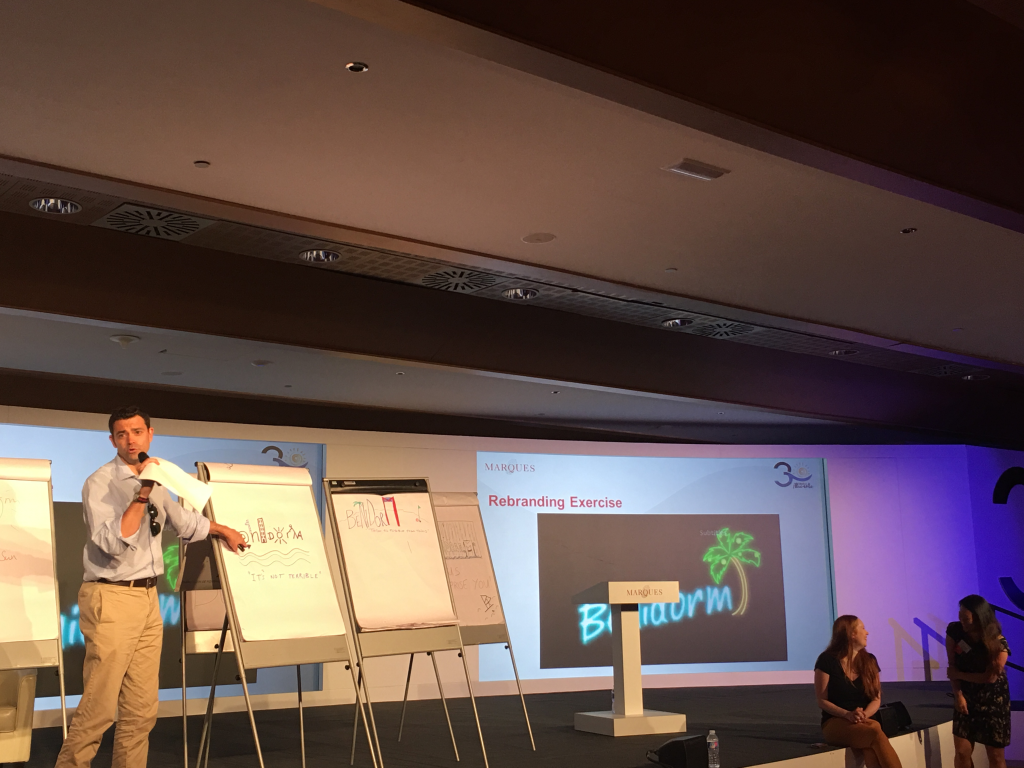 follows: involve legal in earliest conversations, review existing IP assets, clear rebranded assets (name, logo, look, etc), protect through TM registration, consider additional rights (designs, copyright, trade dress), think beyond IP!
Successful rebranding includes cultural change, business change and corporation global changes. The Audience was divided in several groups competing for the rebranding of the city of Benidorm which ensued in entertaining presentations by the mock up creative/legal teams.
Posted by: Laetitia Lagarde @ 15.03
Tags:
marques
,
alicante
,
designs
,
GI's
,
rebranding
,



Sharing on Social Media? Use the link below...
Perm-A-Link:
https://www.marques.org/blogs/class46?XID=BHA4434
Reader Comments: 0
Post a Comment
MARQUES does not guarantee the accuracy of the information in this blog. The views are those of the individual contributors and do not necessarily reflect those of MARQUES. Seek professional advice before action on any information included here.
The Class 46 Archive