CLASS 46

Now in its twelfth year, Class 46 is dedicated to European trade mark law and practice. This weblog is written by a team of enthusiasts who want to spread the word and share their thoughts with others.
Who we all are...
TUESDAY, 24 MAY 2016
General Court: B'lue (figurative) v. BLU DE SAN MIGUEL
In Judgment T‑803/14, the General Court dismissed the applicant's appeal and confirmed the rejection of its EU trade mark application. The following marks were in conflict in this case:
Compagnie Gervais Danone - EU TM applicant

San Miguel, Fabricas de Cerveza y Malta, SA- Opponent

BLU DE SAN MIGUEL

Class 32 -'isotonic beverages [not for medical purposes]; high energy drinks'

Class 32: 'Beers; mineral and aerated waters and other non-alcoholic drinks; fruit drinks and fruit juices; syrups and other preparations for making beverages';

– Classes 38 and 43
First, the relevant public consisted of all consumers within the EU and the goods concerned are directed at the general public with an average level of attention.
Next, the goods covered by the contested mark, namely isotonic beverages (not for medical purposes) and high energy drinks, fall within the category of non-alcoholic drinks covered by the earlier mark.
Furthermore, the signs are visually similar to a low degree, but are, by contrast, phonetically similar to a certain degree, and, in addition, they refer to the same concept, namely the colour blue. In addition, contrary to what the applicant maintains, the weak distinctive character of the element 'blu', taken in isolation, does not have the effect of automatically conferring on the other element of the earlier mark, 'san miguel', a distinctive and dominant character.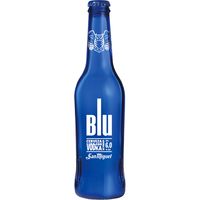 Whether that other element has such a distinctive and dominant character must be assessed in the light of its inherent qualities and of the weight that it has in that mark in relation to the element 'blu'.
Therefore, in the light of the average distinctiveness of the earlier mark — inter alia since the element 'de san miguel' is not descriptive — and of the particular importance of the element 'blu' at the beginning of the mark, which part of the relevant public would tend to use to distinguish it from other signs including the element "san miguel", or even abbreviate the mark to "blu", likelihood of confusion between the marks could not be excluded.
For blue painted in the blue listen here
Posted by: Laetitia Lagarde @ 18.12
Tags:
General Court
,
Blue
,
blu de san miguel
,
beers
,
drinks
,
,



Sharing on Social Media? Use the link below...
Perm-A-Link:
https://www.marques.org/blogs/class46?XID=BHA4373
Reader Comments: 0
Post a Comment
MARQUES does not guarantee the accuracy of the information in this blog. The views are those of the individual contributors and do not necessarily reflect those of MARQUES. Seek professional advice before action on any information included here.
The Class 46 Archive