CLASS 46

Now in its twelfth year, Class 46 is dedicated to European trade mark law and practice. This weblog is written by a team of enthusiasts who want to spread the word and share their thoughts with others.
Who we all are...
SUNDAY, 15 MAY 2016
General Court: chocolate packaging lacks distinctive character
August Storck KG filed an application for international registration designating the EU in 2013 for the following goods 'Confectionery, chocolate, chocolate products, pastries, ice-creams, preparations for making the aforementioned products, included in class 30 for the following figurative sign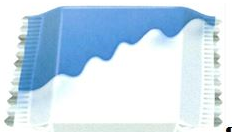 The General Court recently confirmed (see Judgment T-806/14) the EUIPO's decision rejecting the EU mark on the ground that the mark applied for was devoid of any distinctive character in relation to the goods concerned within the meaning of Article 7(1)(b) of Regulation No 207/2009.
The relevant public is the average EU consumer with a low level of attentiveness. The mark applied for consists merely of a combination of presentational features that are typical of the packaging of the goods concerned. Furthermore, the applicant did not demonstrate that the colours or other decorative patterns included in the mark applied for would indicate the origin of the goods concerned.
Second, the applicant's reference to the importance of colour-codes used by other manufacturers is irrelevant. Third, the results concerning a public survey carried out by Ipsos GmbH in Germany in April 2014 on the level of distinctiveness of the mark applied for, did not make it possible to establish such distinctiveness across the entire European Union. Fourth, as regards three-dimensional marks, the more closely the shape for which registration is sought resembles the shape most likely to be taken by the goods in question, the greater the likelihood of the shape being devoid of any distinctive character for the purposes of Article 7(1)(b) of CTMR. Therefore, the sign is insufficiently distinguishable from other shapes present on the market for it to be regarded, in the absence of other fanciful elements, as having the minimum distinctive character required.
Posted by: Laetitia Lagarde @ 14.43
Tags:
General court
,
absolute grounds
,
confectionery
,



Sharing on Social Media? Use the link below...
Perm-A-Link:
https://www.marques.org/blogs/class46?XID=BHA4367
Reader Comments: 0
Post a Comment
MARQUES does not guarantee the accuracy of the information in this blog. The views are those of the individual contributors and do not necessarily reflect those of MARQUES. Seek professional advice before action on any information included here.
The Class 46 Archive