CLASS 46

Now in its twelfth year, Class 46 is dedicated to European trade mark law and practice. This weblog is written by a team of enthusiasts who want to spread the word and share their thoughts with others.
Who we all are...
TUESDAY, 8 DECEMBER 2015
"Real" case heads for CJEU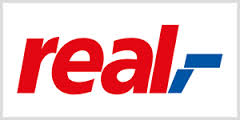 Class 46 learns that an appeal has been lodged with the Court of Justice of the European Union (CJEU) against the General Court's decision in Case T-580/13 Real Express v MIP Metro. This was a decision to dismiss Real's challenge to the Board of Appeal's rejection of its opposition, brought against MIP Metro's application to register the mark on the right as a Community trade mark -- both parties' figurative marks containing the dominant word REAL and covering goods and services in Classes 3 and 35. Frustratingly, the General Court decision on Curia doesn't appear to show either party's mark, but both can be seen in the Board of Appeal ruling.
It's one of those procedural cases you never want to be involved in, where the General Court's summary of the facts is considerably longer than its decision and the result was that Real Express's appeal was deemed partly inadmissable and partly unsubstantiated by law.
When it gets to the CJEU it will have a new number, C-309/15 P. If you'd like to advise the UK Government as to how you think it should go, please do so by 16 December by emailing policy@ipo.gov.uk.
Posted by: Blog Administrator @ 17.07
Tags:
CTM
,
CJEU
,
appeal
,
opposition
,
procedural rules
,



Sharing on Social Media? Use the link below...
Perm-A-Link:
https://www.marques.org/blogs/class46?XID=BHA4242
Reader Comments: 0
Post a Comment
MARQUES does not guarantee the accuracy of the information in this blog. The views are those of the individual contributors and do not necessarily reflect those of MARQUES. Seek professional advice before action on any information included here.
The Class 46 Archive