CLASS 46

Now in its twelfth year, Class 46 is dedicated to European trade mark law and practice. This weblog is written by a team of enthusiasts who want to spread the word and share their thoughts with others.
Who we all are...
WEDNESDAY, 27 MAY 2015
PUMA vs "POODLE" - German Supreme Court reviews parody rights
Apologies for the temporary quirks of our publishing software. Please email us if the images below should still not be visible in the email you have received on this blog post.
Earlier this month, the German Federal Supreme Court (BGH) decided that the constitutional rights of free speech and artistic expression only go so far. The judges ordered the defendant to consent to the cancellation of his trademark registration "PUDEL". "Pudel" means "poodle" in German and the registered word-device mark clearly parodied the claimant's well-known "PUMA" mark: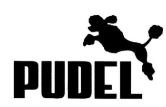 PUMA is a well-known German manufacturer of sportswear, and the defendant had also registered and used his PUDEL mark for clothing. The German Federal Supreme Court held that while there was no danger of confusing the two marks, the PUDEL mark infringed on the broader protection the PUMA mark enjoyed by virtue of its reputation. The judges furthermore gave precedence to the claimant's intellectual property rights over the freedom of expression and artistic freedom invoked by the defendant. The court held that these fundamental rights do not justify the grant of a property right if that right interferes with an older property right.
Your author welcomes this decision. Freedom of artistic expression and freedom of speech enjoy constitutional protection to the extent that they further public debate and the open expression of thoughts, opnions and creativity. The court rightly drew the line where a parody is used primarily for commercial aims, such as obtaining a trademark registration and using it in commerce. We are awaiting the publication of the full reasons with great interest. It remains to be seen if the German Supreme Court used the opportunity of this rather unusual dispute to hand down general considerations on the scope of parody where it intersects with trademark rights.
German Federal Supreme Court, decision of 2 April 2015, file no. I ZR 59/13 (not yet published).
Posted by: Anthonia Ghalamkarizadeh @ 09.14
Tags:
PUMA
,
Pudel
,
Poodle
,
parody
,
BGH
,
German Supreme Court
,



Sharing on Social Media? Use the link below...
Perm-A-Link:
https://www.marques.org/blogs/class46?XID=BHA4093
Reader Comments: 0
Post a Comment
MARQUES does not guarantee the accuracy of the information in this blog. The views are those of the individual contributors and do not necessarily reflect those of MARQUES. Seek professional advice before action on any information included here.
The Class 46 Archive