CLASS 46

Now in its twelfth year, Class 46 is dedicated to European trade mark law and practice. This weblog is written by a team of enthusiasts who want to spread the word and share their thoughts with others.
Who we all are...
THURSDAY, 7 MAY 2015
Cloudy day for Skype in General Court
In Cases T‑423/12, T-183/13, and T-184/13 the GC dismissed the appeal in the following opposition
Skype Ultd – contested CTM

Sky plc, formerly British Sky Broadcasting Group plc, and Sky IP International Ltd- Earlier CTM

SKYPE

SKY

Class 9 including portable and handheld digital electronic devices for recording, organising, transmitting, manipulating, and reviewing text, data, and audio files; computer software for use in organising, transmitting, manipulating, and reviewing text, data, and audio files on portable and handheld digital electronic devices; headphones, earphones, headphones with integrated audio players, portable and handheld devices for playing audio files; etc

– Class 38: 'Providing voice over Internet protocol (VOIP) peer-to-peer communications, electronic transmission of data and documents over computer terminals and instant messaging services; providing a high speed access to area networks and a global computer information network';

– Class 42: 'Computer services and software development for others, namely, design of computer software and hardware for use in telecommunications and voice over Internet protocol (VOIP) applications, data transmission and instant messaging services; creating and maintaining websites for others; hosting websites of others on a computer server for a global computer network; installation and maintenance of computer software; providing temporary use of online, non-downloadable computer software that allows subscribers to utilise VOIP communication services; providing online software for downloading by others that allows subscribers to utilise VOIP communication services'.

Class 9 goods including data storage apparatus and instruments, software and data storage software, and software for videoconferencing, but excluding car batteries';

Class 38: 'Telecommunications, including videoconferencing services and sharing of files, images, music, video, photos, drawings, audiovisual, text, documents and data; but excluding telegraph communications services'


Class 41 class headings

Class 42: 'Scientific and technological services and research and design relating thereto; industrial analysis and research services; design and development of computer hardware and software; legal services; including online technical storage facilities, online technical back-up services and online technical back-up facilities, software as a service (SaaS) services, and electronic hosting of files, data, photographs, graphics, documents, videos, images, audio files, audiovisual files, visual files, computer files, computer applications, information for others and videoconferencing services, but excluding the performance of chemical analyses'.
The Opposition Division and the Fourth Board of Appeal of OHIM upheld all the oppositions in respect of all the goods and services in question, on the basis of Article 8(1)(b) of Regulation No 207/2009.
The relevant public consists of the public at large and professionals. The goods and services covered by the marks at issue are made up, in particular, of audiovisual goods, telephony and photography goods and computer services relating to software or to the creation or hosting of websites, which may be used on a daily basis by the end consumer. Furthermore, they are, in part, technical and specialised in nature. As for peer-to-peer communication services, in spite of their technical nature, are aimed at a general public and using them does not require specific technical expertise, beyond the ability to use a computer and the Internet. Accordingly, it should be assumed that the relevant consumer does not have greater technical expertise than the average end consumer.
The General Court confirmed OHIM's decisions: the goods and services covered by the marks at issue are identical and there is an average degree of visual, phonetic and conceptual similarity between the marks. The figurative mark applied for is composed of the word element 'skype', surrounded by a borderline in the shape of a cloud or bubble -this figurative element has a 'merely decorative' function. Conceptually, the possibility cannot be ruled out that the relevant public will recognise the term 'sky' in the marks applied for, thus giving rise to a medium conceptual similarity between the two signs. Further, where the relevant public recognises the figurative element as representing a cloud, this could further increase the degree of conceptual similarity between the two signs, since clouds are found 'in the sky' and will thus be readily associated with the term 'sky'. Visually and phonetically, the three letters 'sky' are reproduced in the beginning of the marks applied for.
Furthermore, SKY brand enjoys a high degree of distinctiveness in the United Kingdom at least in respect of some of the relevant goods and services in Classes 9, 38 and 41, and the degree of its distinctiveness is average for the remaining goods and services at issue. As regards the alleged 'secondary meaning' of SKYPE, the Court held that in the event that the term had actually acquired a meaning of its own for identifying the services covered by the mark applied for, it would thus be a generic term, and therefore a descriptive one, for that type of service. Moreover, only the recognition by the relevant public of the earlier mark must be taken into account when determining whether there is a likelihood of confusion between the two marks.
Moreover, the conditions for establishing a reduction in the likelihood of confusion on account of a peaceful coexistence of the marks on the market were not fulfilled in this case. First, the coexistence of the marks at issue in the UK can concern only peer-to-peer communication services since the applicant has not claimed to have developed its business as regards those other goods and services, before the date of filing of its trade mark application. Coexistence concerning only one isolated and highly specific service among a long list of goods and services covered by the marks at issue cannot diminish the likelihood of confusion for the entirety of those goods and services.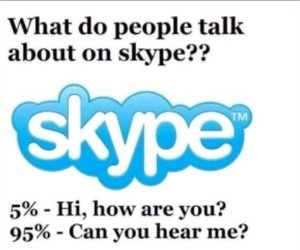 Second, at the date of the CTM filings in 2004-2005, the applicant's peer-to-peer communication service, launched in August 2003, had existed for at the most 22 months. Even accepting the applicant's claim that that service immediately saw great success following its launch, a period of coexistence of 22 months, concerning an activity that was not part of SKY's 'core business', was manifestly insufficient for assuming that the coexistence was based on the absence of a likelihood of confusion in the mind of the relevant public, a criterion which the applicant failed to show to exist.
Accordingly, there is a likelihood of confusion, even taking into account a possible higher degree of attention of the relevant consumer.
Posted by: Laetitia Lagarde @ 04.41
Tags:
general court
,
likelihood of confusion
,
skype
,
sky
,



Sharing on Social Media? Use the link below...
Perm-A-Link:
https://www.marques.org/blogs/class46?XID=BHA4075
Reader Comments: 0
Post a Comment
MARQUES does not guarantee the accuracy of the information in this blog. The views are those of the individual contributors and do not necessarily reflect those of MARQUES. Seek professional advice before action on any information included here.
The Class 46 Archive