CLASS 46

Now in its twelfth year, Class 46 is dedicated to European trade mark law and practice. This weblog is written by a team of enthusiasts who want to spread the word and share their thoughts with others.
Who we all are...
SUNDAY, 5 OCTOBER 2014
Poland: public domain and trade marks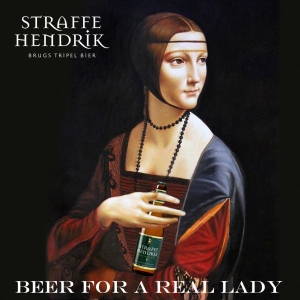 BO Paintings organized an international competition for advertising for one of the breweries in Belgium. Polish graphic designer Łukasz Adamczyk won this contest. Mr Adamczyk used famous work of Leonardo da Vinci, and has made his own interpretation of the painting entitled Lady with an Ermine. However, the taste of victory was overshadowed by legal problems. The Princes Czartoryski Foundation, the owner of the painting, issued an official statement to the organizer.
The Foundation has the arbitrary power to decide whether photographic reproduction of the painting may be taken and/or used by their parties. The Foundation may also control the way the painting is used and perceived by the public as it belongs to its private collection (...) Because of these statutory objectives and good name of XX Czartoryski Foundation using Lady with an Ermine reproduction to advertize alcohol beverages is not acceptable.
As it may be a clear example of abusive legal threat and appropriation of allegedly existing rights, this story has also some trade mark thread. On 16 August 2012, the Foundation applied to the Polish Patent Office for right of protection for the figurative trade mark Z-403998 for goods in Class 16 and services in Classes 35, 36 and 41 (depicted left). The list of the goods include
inter alia
portraits, bills, posters, posters of paper or cardboard, etchings, watercolors, albums, graphic reproductions, oil-prints, lithographic works of art, lithographs, painting framed or unframed. The PPO has not issued a decision on the grant of rights.
On 24 May 2012, the Foundations had also applied for the word trade mark Dama z gronostajem (Lady with an Ermine) Z-400801 for the same goods and services as in case of the trade mark application Z-403998. However, according to the PPO's database, the Polish Patent Office did not grant the right of protection, although there was a conditional decision in that case. Posted by: Tomasz Rychlicki @ 19.00
Tags:
Poland
,
public domain
,
trade marks
,
da Vinci
,
Lady with an Ermine
,



Sharing on Social Media? Use the link below...
Perm-A-Link:
https://www.marques.org/blogs/class46?XID=BHA3882
Reader Comments: 0
Post a Comment
MARQUES does not guarantee the accuracy of the information in this blog. The views are those of the individual contributors and do not necessarily reflect those of MARQUES. Seek professional advice before action on any information included here.
The Class 46 Archive