CLASS 46

Now in its twelfth year, Class 46 is dedicated to European trade mark law and practice. This weblog is written by a team of enthusiasts who want to spread the word and share their thoughts with others.
Who we all are...
MONDAY, 29 SEPTEMBER 2014
Guess who? If it's not Gucci, it's a parasite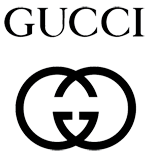 Earlier this month Guccio Gucci S.p.A.,issued a press release to tell the world how very pleased it was with a positive decision from the Court of Appeal of Milan in its bitter dispute with US corporation Guess, which partially reversed the first instance decision of May 2013.
In June 2013 Gucci appealed against an unexpected decision of the Court of Milan to dismiss its action against Guess, in which Gucci claimed, inter alia, that Guess was deliberately indulging in broadly parasitic imitation of its products and distinctive signs in order to take free advantage of Gucci's worldwide reputation.
In its decision the Court of Appeal pointed out that Guess's constant imitative attitude towards Gucci's motifs was clear and that Guess's initiative in many cases was aimed at a systematic and massive exploitation of Gucci's initiative and creativity. Consequently, the Court held Guess liable for unfair competition through parasitism.
The Court of Appeal also found that Guess's imitative conduct was intentional and caused Gucci detriment, ruling that Guess was liable for damages, based on the fact that the U.S. company adopt[ed] signs resembling Gucci's commercial products, but at a lower price.
While this decision is subject to a further appeal to the Supreme Court, the appellate proceedings will now establish the amount of damages to be awarded to Gucci.
By correcting the first instance's mistakes on the unfair competition issue, this decision is in line with decisions handed down in both the U.S. and China, which also held Guess responsible for similar wrongdoings.
Posted by: Blog Administrator @ 19.57
Tags:
Italy
,
parasitism
,



Sharing on Social Media? Use the link below...
Perm-A-Link:
https://www.marques.org/blogs/class46?XID=BHA3866
Reader Comments: 0
Post a Comment
MARQUES does not guarantee the accuracy of the information in this blog. The views are those of the individual contributors and do not necessarily reflect those of MARQUES. Seek professional advice before action on any information included here.
The Class 46 Archive