CLASS 46

Now in its twelfth year, Class 46 is dedicated to European trade mark law and practice. This weblog is written by a team of enthusiasts who want to spread the word and share their thoughts with others.
Who we all are...
TUESDAY, 12 AUGUST 2014
General Court: VIA VITA v VILA VITA substantial modification and lack of genuine use
In case T-204/12Vila Vita Hotel und Touristik v OHMI, ViaVita (France) applied for the sign VIAVITA for serv
ices in classes 36 to 45. Vila Vita Hotel und Touristik GmbH (Germany) brought an opposition on the basis of earlier Austrian word mark VILA VITA PARK registered for travel agency services in Classes 39 and 45 and earlier German figurative mark VILA VITA registered for goods and services in classes 3, 35, 37, 39 and 41 (see right). The applicant requested proof of genuine use of the earlier rights.
Whereas the opposition division partially upheld the opposition, the First Board of Appeal rejected the opposition finding that the opponent had not demonstrated genuine use of its rights according to article 42 (2) and (3) together with Article 15 (1) a) of CTMR .
The General Court dismissed the appeal and also found that the use of the earlier rights constituted a "substantial modification" with respect to the way they were registered .
Regarding the earlier Austrian mark, the opponent only brought evidence of the use of VILA VITA and the omission of the distinctive word element PARC is not marginal. Actually, evidence of the use under the name "vila vita hotel & feriendorf panno[n]ia" (as referring to a holidays village) shows a substantial modification of the use with respect to the registered sign.
As regards the earlier German right, the opponent brought evidence of the following use: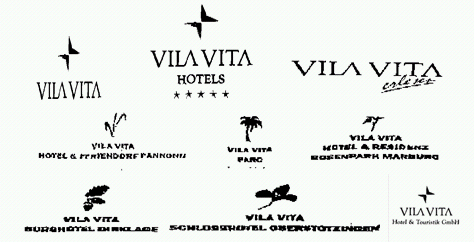 The court noted that the figurative elements are so completely different (the globe has been replaced by a butterfly, palm trees o leaves) that it is not possible to recognize visually the German sign such as it is registered. Therefore, there is lack of genuine use for both earlier signs and the opposition cannot succeed.
Posted by: Laetitia Lagarde @ 17.03
Tags:
general court
,
vila vita
,
via vita
,
genuine use
,



Sharing on Social Media? Use the link below...
Perm-A-Link:
https://www.marques.org/blogs/class46?XID=BHA3815
Reader Comments: 0
Post a Comment
MARQUES does not guarantee the accuracy of the information in this blog. The views are those of the individual contributors and do not necessarily reflect those of MARQUES. Seek professional advice before action on any information included here.
The Class 46 Archive