CLASS 46

Now in its twelfth year, Class 46 is dedicated to European trade mark law and practice. This weblog is written by a team of enthusiasts who want to spread the word and share their thoughts with others.
Who we all are...
MONDAY, 21 JULY 2014
General Court: shape of a bottle for blackberry liquor rejected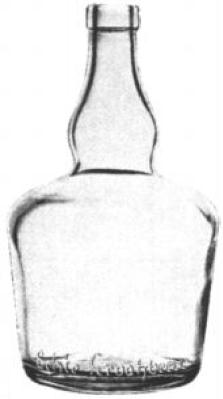 In Case T-66/13, Franz Wilhelm Langguth Erben GmbH (Germany) applied for registration of the figurative mark (here left) for Class 33 goods 'alcoholic beverages, blackberry liquor'. OHIM refused registration raising an absolute grounds objection on the basis of Article 7 (1) b) CTMR.
The General Court upheld OHIM's decision and confirmed first that the relevant public is the average German consumer due to the German verbal element written on the bottle. Second, even if the shape differs from the other shapes of bottles produced by the applicant, it does not diverge significantly from the norms and customs of the sector. On the contrary, it is quite an ordinary shape. The verbal element "echte Kroatzbeere" or "real berries" embossed at the bottom of the bottle, although not a commonly used expression in German (referring to a local expression for 'blackberry') , will still be perceived as the content of the bottle, and therefore also lacks distinctive character.
Posted by: Laetitia Lagarde @ 11.27
Tags:
General Court
,
absolute grounds
,
blackberry liquor
,
echte Kroatzbeere
,



Sharing on Social Media? Use the link below...
Perm-A-Link:
https://www.marques.org/blogs/class46?XID=BHA3795
Reader Comments: 3
Post a Comment
Submitted By: Peter Groves
23 July 2014 @ 07.23
The product concerned in this case was liqueur, not liquor.
Submitted By: Jeremy
23 July 2014 @ 10.12
Thanks, Peter! For good measure, here's a link to a short explanation of the difference between liquor and liqueur: http://www.cookthink.com/reference/1900/What_is_the_difference_between_liquor_and_liqueur Actually, there's not much difference after you've spent an evening drinking either of them ...
Submitted By: Laetitia
23 July 2014 @ 17.44
Thank you both for your specifications. Hope to try this liqueur in Germany next weekend
MARQUES does not guarantee the accuracy of the information in this blog. The views are those of the individual contributors and do not necessarily reflect those of MARQUES. Seek professional advice before action on any information included here.
The Class 46 Archive