CLASS 46

Now in its twelfth year, Class 46 is dedicated to European trade mark law and practice. This weblog is written by a team of enthusiasts who want to spread the word and share their thoughts with others.
Who we all are...
THURSDAY, 26 JUNE 2014
Trouble in Turkey for CUBANO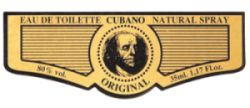 What could be the problem with a figurative trade mark containing a cute word like "Cubano"? Take a look at "Turkey: Turkish Patent Office Rejects a Trademark Application Due to Incorporating the Phrase 'Cubano' Among Other Reasons" -- an article by Uğur Aktekin, Ali Bozoðlu and İpek Oğuz of MARQUES member Mehmet Gun & Partners. You can read the full story here. Meanwhile, the decision of the Turkish Patent Institute (TPI) can be summarised here:
"As a result of the examination the appeal board of TPI determined that the "CUBANO" element on the trademark application lacked the distinctive character as it meant "Cuban, from Cuba" and indicated the origin of goods, and rightfully concluded that the subject trademark application was not distinctive for the goods covered by the application. Furthermore, ... the device element which could be observed from the above visual and the portrait of an old president of the U.S., Benjamin Franklin lacked distinctiveness as a trademark and along with phrases such as "eau de toilette", "natural spray", "80 % vol." and "35 ml 1.17 Fl oz" could be misleading for the public.
The decision has become final as the applicant has not filed a cancellation action against the decision before the Courts within due time.
The decision of TPI is significant due to the reason that the phrase "CUBANO" is considered to indicate the origin of goods to Turkish consumers despite the fact that it is not a Turkish word. Additionally the decision sets a very good precedent in combating with trademark applications that incorporate geographical signs as an element that could make the public think that the goods covered by the application are associated with the relevant geography".
Posted by: Blog Administrator @ 22.29
Tags:
Turkey
,
marks containing geographical indicators
,



Sharing on Social Media? Use the link below...
Perm-A-Link:
https://www.marques.org/blogs/class46?XID=BHA3768
Reader Comments: 0
Post a Comment
MARQUES does not guarantee the accuracy of the information in this blog. The views are those of the individual contributors and do not necessarily reflect those of MARQUES. Seek professional advice before action on any information included here.
The Class 46 Archive