CLASS 46

Now in its twelfth year, Class 46 is dedicated to European trade mark law and practice. This weblog is written by a team of enthusiasts who want to spread the word and share their thoughts with others.
Who we all are...
WEDNESDAY, 21 MAY 2014
It's all Arabic or Greek to me: some first thoughts on the Loutfi Arabic script case
Further to Jeremy's post yesterday on the Loutfi Arabic script case, some initial reflections, which may look like objections: Does there really exist any reason to assess likleihood of confusion on an additional or differentiated set of criteria, informed by human rights principles? This blogger would understand that the level of impact of different pronunciation or meaning rests on the perception of the relevant public. If such public includes a sizeable amount of persons who speak or are familiar with a language other than the official Ianguage of the given Member State, then why should this not be relevant in comparing signs and addessing likelihood of confusion, when word or words in that non official language are dominant? Also, when for the relevant public such words are pronounced differently and have different meaning, are we sure they will be perceived as visually similar? True, possible large cultural differences among the relevant public make asssessing risk of consumer confusion a nightmare, but this looks like a different issue.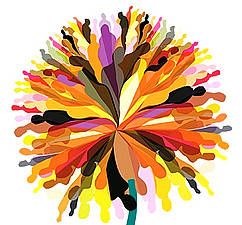 Moreover, is this really a human rights case? Is it the rights to equality and cultural and linguistic diversity that will or should drive the Court's reasoning in this matter or good old market pragmatism? Is not likelihood of confusion assessed based on the perceptions of the relevant public that may or may not be familiar with Arabic in the given geographic context?
Cultural and lingusitic diversity should be a key factor in policy decisions, where it is not already. Human rights principles are omnipresent in TM law (are we not invoking the principle of non discrimination when nagging about the OHIM's casually selective approach to Member States TM law practice?). Still, it seems to this blogger that cultural considerations form a factual background to be addressed and are already part of the likelihood of confusion puzzle.
Posted by: Nikos Prentoulis @ 11.01
Tags:
CJEU reference
,
Loutfi Arabic scipt case
,
humasn rights
,
cultural diversity
,
linguistic diversity
,
equality
,
non discrimination
,



Sharing on Social Media? Use the link below...
Perm-A-Link:
https://www.marques.org/blogs/class46?XID=BHA3718
Reader Comments: 0
Post a Comment
MARQUES does not guarantee the accuracy of the information in this blog. The views are those of the individual contributors and do not necessarily reflect those of MARQUES. Seek professional advice before action on any information included here.
The Class 46 Archive