CLASS 46

Now in its twelfth year, Class 46 is dedicated to European trade mark law and practice. This weblog is written by a team of enthusiasts who want to spread the word and share their thoughts with others.
Who we all are...
TUESDAY, 15 APRIL 2014
Michelangelo and Botticelli combined are distinctive says German Patent Court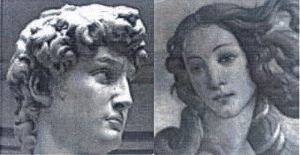 The German Federal Patent Court (BPatG) recently gave a welcome liberal ruling on the distinctiveness of a device mark. The applicant, a private individual, had applied for a device mark showing images of two world famous works of art, Michelangelo's David and Botticelli's Venus. Their heads are joined next to each other and it seems they are gazing into each other's eyes. The application was filed for body and beauty care products in class 3, pharmaceutical preparations in class 5 and for related services.
The court overturned the decision of the PTO, which had rejected the application for lack of distinctiveness. The court thought that the PTO had been correct in finding that both images of Michelangelo's David and of Botticelli's Venus were frequently used in advertising to allude to beauty and health. However, the court disagreed with the PTO's conclusion that therefore, the combination of the two images lacked distinctiveness. Leaving it open whether or not each of the images by itself might be capable of trademark protection, the court said that this was at least true for their combination. It thought that the particular composition, where it seems as if David were looking up to Venus, is unusual and sufficient to lend the mark distinctive character.
This author agrees. The court has accorded due weight to the fact that the trademark applicant has not merely used some commonplace imagery but has creatively combined two well-known metaphors for beauty and health to form an ensemble which reinforces their meaning and equips them with a fresh, almost cheeky, look. It would be welcome if the PTO also took greater care in noticing such nuances. As it is, the PTO is often rather quick in applying a blanket approach when rejecting trademark applications with descriptive tendencies.
Case Reference: 30 W (pat) 14/12 of 6 February 2014.
The decision - in German - is available here.
Posted by: Anthonia Ghalamkarizadeh @ 14.24
Tags:
Michelangelo
,
David
,
Venus
,
Botticelli
,
BPatG
,
Bundespatengericht
,
30 W (pat) 14/12
,



Sharing on Social Media? Use the link below...
Perm-A-Link:
https://www.marques.org/blogs/class46?XID=BHA3676
Reader Comments: 0
Post a Comment
MARQUES does not guarantee the accuracy of the information in this blog. The views are those of the individual contributors and do not necessarily reflect those of MARQUES. Seek professional advice before action on any information included here.
The Class 46 Archive