CLASS 46

Now in its twelfth year, Class 46 is dedicated to European trade mark law and practice. This weblog is written by a team of enthusiasts who want to spread the word and share their thoughts with others.
Who we all are...
FRIDAY, 28 MARCH 2014
General Court: Attempt by a bank to register PASSION TO PERFORM fails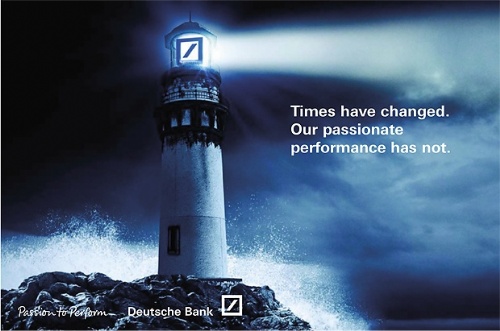 In cases T-291/12 and T-539/11, Deutsche Bank AG applied for registration of the signs Passion to Perform and Leistung aus Leidenschaft (in English ' Passion to perform') for Class 35: 'Advertising; business management; business administration; office functions'; Class 36: 'Insurance; financial affairs; monetary affairs, real estate'; Class 38: 'Telecommunications'; Class 41: 'Education; providing of training; entertainment; sporting and cultural activities' and Class 42: 'Scientific and technological services, research and design relating thereto; industrial analysis and research services; design and development of computer hardware and software.
The OHIM, as confirmed by the General Court, rejected the applications holding that they consisted of advertising slogans which won't be perceived immediately by the relevant public as an indication of the commercial origin of the services referred to.
For the relevant public composed of end consumers and commercial undertakings, its level of attention is low in view of the promotional nature of the mark applied for. Further, the meaning of the individual elements of the sign applied for – as well as the meaning of the sign as a whole – is evident and wholly lacking in originality and the marks applied for signify, irrespective of the service, that Deutsche Bank promises its clients that it will perform with passion.
Neither previous registrations – even if comparable – nor registrations of a quasi-identical mark by national offices suffice to confer a right to registration in respect of the marks applied for.
Thus the marks applied for, which will only be perceived by the relevant public as a laudatory statement, are incapable of fulfilling its function of distinguishing the services as to their commercial origin and therefore fail to comply with Article 7(1)(b) CTMR.
Posted by: Laetitia Lagarde @ 16.00
Tags:
General Court
,
passion to perform
,
Deutsche Bank
,
trademark,Leistung aus Leidenschaft
,



Sharing on Social Media? Use the link below...
Perm-A-Link:
https://www.marques.org/blogs/class46?XID=BHA3655
Reader Comments: 0
Post a Comment
MARQUES does not guarantee the accuracy of the information in this blog. The views are those of the individual contributors and do not necessarily reflect those of MARQUES. Seek professional advice before action on any information included here.
The Class 46 Archive