CLASS 46

Now in its twelfth year, Class 46 is dedicated to European trade mark law and practice. This weblog is written by a team of enthusiasts who want to spread the word and share their thoughts with others.
Who we all are...
WEDNESDAY, 5 MARCH 2014
Zensations v. Zen in General Court
In case T-416/12, the following opposition was object of an appeal before the General Court:
HP Health Clubs Iberia SA (Spain) – Contested CTM

Shiseido Company Ltd (Japan)- Earlier CTM

ZEN

Class 35 Commercial retailing of soaps, perfumery, essential oils, cosmetics, hair lotions and dentifrices.

<!Class 44: Medical services; physiotherapy; health services, balneotherapy, aromatherapy and massages; beauty and hairdressing salons.

Class 3 :Soaps; perfumery, eau de cologne, toilet water; essential oils; body deodorants; cosmetic products for the care and beautification of the skin, of the face and the body; cosmetic preparations for the bath; make-up; hair care cosmetics; sun care products; incense.

Class44: Beauty salons, hairdressing salons, health care and beauty care, manicuring, massage services.
The opponent brought an opposition on the grounds of Art. 8 (1) b) CTMR against all the contested goods and services except for 'physiotherapy'. The Opposition Division rejected the opposition. The Board of appeal cancelled the OD decision, rejecting the contested CTM for the opposed services.

The relevant public consists of the average consumer and specialized public. The services of the contested CTM are identical or similar to the earlier mark's services.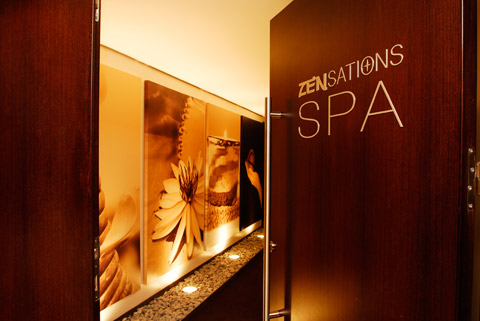 The signs are similar from a visual, aural and conceptual point of view. For part of the relevant public, namely Danish, Germans, English, French or Swedish, the sign "zensations" clearly reminds of the similar word "sensations". These consumers will not break down the word to isolate the word "zen" but will recognize a slight variation of the similar word. However, for the rest of the public who doesn't know the above languages, it is very probable that it will isolate the word ZEN, thus the similarity will be even higher since it appears at the beginning in a striking colour.
The link between "zen" and the registered goods and services is weak only for part of the public, so it must be considered that the earlier mark has an average distinctive character.
Therefore, taking into consideration the overall assessment, the General Court confirmed there is a likelihood of confusion between the signs.
Posted by: Laetitia Lagarde @ 11.38
Tags:
General court
,
likelihood of confusion
,
zensations
,
zen
,



Sharing on Social Media? Use the link below...
Perm-A-Link:
https://www.marques.org/blogs/class46?XID=BHA3631
Reader Comments: 0
Post a Comment
MARQUES does not guarantee the accuracy of the information in this blog. The views are those of the individual contributors and do not necessarily reflect those of MARQUES. Seek professional advice before action on any information included here.
The Class 46 Archive