CLASS 46

Now in its twelfth year, Class 46 is dedicated to European trade mark law and practice. This weblog is written by a team of enthusiasts who want to spread the word and share their thoughts with others.
Who we all are...
WEDNESDAY, 26 FEBRUARY 2014
General Court: representation of a yellow curved line
In Case T-331/12, Sartorius Lab Instruments GmbH & Co. KG applied for the following figurative sign for various goods in Classes 7,9, 10 and 11, always specifying for each class that "all aforementioned goods with an electronic screen".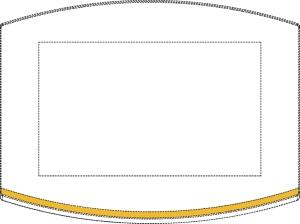 OHIM rejected the application for the sign consisting of a representation of the bottom edge, curved and in yellow, of an electronic display unit. It noted that all products covered by the trade mark application were equipped with electronic display and the relevant public, namely professionals in industrial and technical special areas would perceive the sign as a mere embellishment of the screen. The form does not communicate any information about the manufacturer and therefore the sign does not have the minimum distinctive character according to Article 7(1) b) CTMR.
The General Court dismissed the appeal and confirmed the findings of OHIM: even if the devices covered by the trade mark application generally have a plain aspect, they are not entirely devoid of ornaments. Indeed , it is not unusual to include an element of color around the screen of these devices, or the buttons on the side of the screen or in bright color on the frame of the screen itself. The consumer is thus used to seeing color patterns on the devices covered by the trade mark application. Therefore it will perceive them as a decorative element and not as an indication of the commercial origin of the products, especially since, in general, the producers will display their name to indicate their origin.
Posted by: Laetitia Lagarde @ 16.11
Tags:
General Court
,
absolute grounds
,
electronic display
,



Sharing on Social Media? Use the link below...
Perm-A-Link:
https://www.marques.org/blogs/class46?XID=BHA3621
Reader Comments: 0
Post a Comment
MARQUES does not guarantee the accuracy of the information in this blog. The views are those of the individual contributors and do not necessarily reflect those of MARQUES. Seek professional advice before action on any information included here.
The Class 46 Archive