CLASS 46

Now in its twelfth year, Class 46 is dedicated to European trade mark law and practice. This weblog is written by a team of enthusiasts who want to spread the word and share their thoughts with others.
Who we all are...
TUESDAY, 25 FEBRUARY 2014
General Court: Rebella v. Sembella
In Case T-551/12, Coppenrath-Verlag GmbH & Co. KG (Germany) applied for registration of the word REBELLA for goods, among others, in Class 20 'Furniture; mirrors; picture frames; goods (included in class 20) of wood, cork, reed, cane, wicker, horn, bone, ivory, whale-bone, shell, amber, mother-of-pearl, meerschaum and substitutes for all these materials, or of plastics; shelves for storage;; bed fittings, not of metal;beds, furniture; bedsteads; bedding (not including linen); interior window blinds; slatted indoor blinds; highstools for children; cushions, included in class 20;etc' and Class 24 'Textiles and textile goods (included in class 24); bed and table covers;bath linen, except clothing, in particular bath towels; bed linen; covering fabrics of textile or of plastic film; shower curtains of textile or of plastic sheets; bed covers; face cloths, etc.'
Sembella GmbH (Austria) filed an opposition based on earlier CTM SEMBELLA registered for goods in Classes 17, 20 and 22 and submitted evidence to demonstrate genuine use of its mark.
The Opposition Division partly upheld the opposition for most of the contested goods finding the earlier mark's use had been demonstrated for part of the goods namely ' mattresses, cushions and slatted bases'. OHIM annulled the decision based on a manifest error to fail to compare part of the goods in its decision. The Second Board of Appeal found there was also confusion for the missing goods, namely 'metal furniture, sofas, bed bases, bed linen'.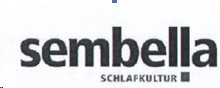 The General Court confirmed the findings of the Board of Appeal. First, the evidence filed for the following figurative marks demonstrate use for the earlier mark because it did not alter the distinctive character of Sembella, since the color and ornamental elements are secondary and "schlafkultur" (sleep culture) is in a smaller font with a quite low distinctive character.
Second, the signs are overall similar due to the common element BELLA and the first syllables, being slightly different, do not create a sufficient aural difference to retain the attention of the consumer (who has a slightly higher degree of attention for some of the goods), and the conceptual comparison does not influence this conclusion.
Therefore, taking into account the average distinctive character of SEMBELLA, which is even higher for the Austrian consumer for 'bed bases' and ' mattresses', there is a risk of association between the signs according to Article 8(1)b CTMR.
Posted by: Laetitia Lagarde @ 15.41
Tags:
General Court
,
likelihood of confusion
,
sembella
,
rebella
,



Sharing on Social Media? Use the link below...
Perm-A-Link:
https://www.marques.org/blogs/class46?XID=BHA3618
Reader Comments: 0
Post a Comment
MARQUES does not guarantee the accuracy of the information in this blog. The views are those of the individual contributors and do not necessarily reflect those of MARQUES. Seek professional advice before action on any information included here.
The Class 46 Archive