CLASS 46

Now in its twelfth year, Class 46 is dedicated to European trade mark law and practice. This weblog is written by a team of enthusiasts who want to spread the word and share their thoughts with others.
Who we all are...
WEDNESDAY, 28 MAY 2008
Freitag: bags with a message!
Just bought a convenient and goodlooking knomo myself - as a replacement for my eastpack rucksack which gave me the look of a litigator who went on a trail instead of on a trial - but the unique Freitag bags are my real love! The trade mark Freitag corresponds with the surname of the Swiss brothers Markus and Daniel Freitag, who invented the first Freitag bag in 1993. Journalist Georgette Koning - who wrote a background story over the Freitag bags in last weekend's edition of NRC Handelsblad - reports that at that time the brothers were looking for a strong bag while each day trucks were passing by. Their golden idea was born: let's produce bags from old truck canvas. But can you buy such materials and where? The brothers found it, produced two bags from it and placed their surname as a joke on the bags. Result: an instant succes.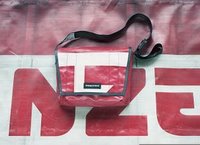 The Freitag bags are a phenomenon and in the meantime are sold through three concept stores and hundreds of selling points. And the bags attract clearcut copycats: a Swiss supermarket chain for example sold Donnerstag (Thursday) copies. The brothers Freitag who have protected the Freitag logo as a trade mark throughout Europe seem to receive hilaric requests: schools in Switzerland organise workshops 'How to make a Freitag bag?' and sometimes the brothers receive a phone call from the participants requesting some Freitag labels to the bags, because they have all materials except the labels!

Although the article does not give a clue whether such requests are honoured, these requests clearly show what a strong attractive trade mark the Freitag brothers have developed over the years. Good job guys! Have a look at the Freitag website, eventually use your own designer capacities or just come to Amsterdam and visit Het Tassenmuseum (the museum of bags and purses) in Amsterdam where Freitag bags can be seen till 17 August 2008 during the exhibition 'Green bags: brand new and used materials'.
Posted by: Gino Van Roeyen @ 23.02
Tags:
bag trade mark
,
Freitag
,



Sharing on Social Media? Use the link below...
Perm-A-Link:
https://www.marques.org/blogs/class46?XID=BHA353
Reader Comments: 0
Post a Comment
MARQUES does not guarantee the accuracy of the information in this blog. The views are those of the individual contributors and do not necessarily reflect those of MARQUES. Seek professional advice before action on any information included here.
The Class 46 Archive