CLASS 46

Now in its twelfth year, Class 46 is dedicated to European trade mark law and practice. This weblog is written by a team of enthusiasts who want to spread the word and share their thoughts with others.
Who we all are...
FRIDAY, 13 DECEMBER 2013
Shape of candy CTM application crushed in General Court
In Case T-156/12, Sweet Tec GmbH applied for the registration of the following 3D mark for the goods in Class 16 "Paper; Cardboard; Printed matter; Stickers; Stickers; Labels, not of textile; Flags and pennants of paper;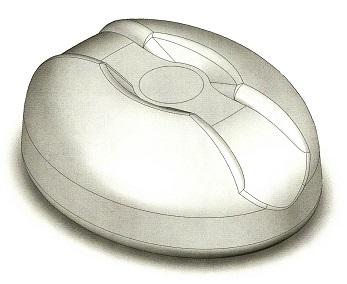 Office requisites, except furniture; Flyers; Foils from plastic for packaging purposes; Sheets of recycled cellulose for wrapping; Wrapping paper; Packaging materials made of plastic; Cardboard articles; Starch materials for packaging." and in Class 30 "Confectionery; Sweets; Peppermint sweets; Ices cream; Peanut confectionery;Pastry and confectionery; Edible ices; Honey; Treacle; Cocoa products; Chewing gum, not for medical purposes; Cookies; Pastries; Liquorice; Maltose; Marzipan; Lozenges; Chocolates; Chocolate-based beverages; Glucose for food; Waffles"
The CTM application contained the following approximate description "Oval shape flattened on the bottom and side area, with oval curved top, which a shorter side of the oval going across to the other shorter side of the oval, which shrinks towards the center and exits on an oval hollow ending with a rounded tip".
Both the OHIM and General Court found the mark lacked distinctive character according to article 7 (1) b) CTMR because the oval shape is common in the confectionery sector. The consumer is used to oval shape confectionery with concaves or hollow parts and the shape does not diverge significantly from the norms of the sector. This shape is a mere variant which won't allow the consumer to recognize a particular source of origin.
Posted by: Laetitia Lagarde @ 17.41
Tags:
general court
,
absolute grounds
,
confectionery
,
3D mark
,



Sharing on Social Media? Use the link below...
Perm-A-Link:
https://www.marques.org/blogs/class46?XID=BHA3515
Reader Comments: 0
Post a Comment
MARQUES does not guarantee the accuracy of the information in this blog. The views are those of the individual contributors and do not necessarily reflect those of MARQUES. Seek professional advice before action on any information included here.
The Class 46 Archive