CLASS 46

Now in its twelfth year, Class 46 is dedicated to European trade mark law and practice. This weblog is written by a team of enthusiasts who want to spread the word and share their thoughts with others.
Who we all are...
THURSDAY, 25 JULY 2013
Tradition and Tobacco in General Court
In case T-508/10, Seba Diş Tįcaret ve Naklįyat AŞ (Turkey) had registered its figurative CTM "Seba Tradition" which was the object of a cancellation action on relative grounds by Joh. Wilh. von Eicken GmbH (Germany) on the basis of earlier German mark both registered for Class34 'tobacco products'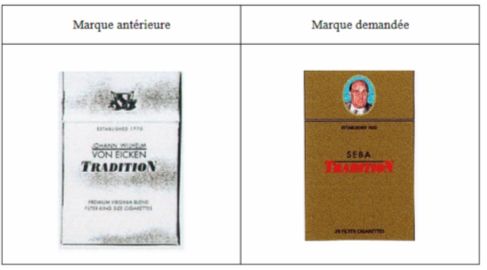 The Opposition Division and Board of Appeal upheld the action and cancelled the CTM. The General Court dismissed the appeal confirming that for identical goods, due to the similarity from visual and conceptual perspective found there was a likelihood of confusion according to Article 8 (1) b) CTMR. It confirmed that the dominant element in both marks is the word TRADITION whereas the other elements will not attract the consumer's attention as much, such as "johann Wilhelm" , "von eicken" or "seba". The consumers won't refer to the other elements "established 1935" , "20 filter cigarettes" and "established 1770", "premium Virginia blend filter king size cigarettes" due to the small size.
Even if taking into consideration the descriptive or weak character of TRADTION for those goods, the GC concluded it does not exclude the likelihood of confusion between those trademarks.
Posted by: Laetitia Lagarde @ 11.32
Tags:
General court
,
likelihoof of confusion
,
seba
,
tobacco
,
tradition
,
von eicken
,



Sharing on Social Media? Use the link below...
Perm-A-Link:
https://www.marques.org/blogs/class46?XID=BHA3300
Reader Comments: 0
Post a Comment
MARQUES does not guarantee the accuracy of the information in this blog. The views are those of the individual contributors and do not necessarily reflect those of MARQUES. Seek professional advice before action on any information included here.
The Class 46 Archive