CLASS 46

Now in its twelfth year, Class 46 is dedicated to European trade mark law and practice. This weblog is written by a team of enthusiasts who want to spread the word and share their thoughts with others.
Who we all are...
MONDAY, 6 MAY 2013
General Court gets ready for summer: SLIM BELLY
In Case T-61/12, the General Court upheld the findings of the OHIM that SLIM BELLY cannot be registered by ABC-One Produktions- und Vertriebs GmbH (Austria) for the following goods and services in Classes 28, 41 and 44: "Exercise apparatus, fitness equipment in the form of belts and collars, stress training equipment, treadmills, running type exercises, body-training apparatus, all the aforesaid goods not included in other classes. Providing of training and further training; education; entertainment; sporting and cultural activities; Fitness studios. Medical services;solarium services; massage services; beauty-salon services; sanitoriums; renting of sanitary facilities".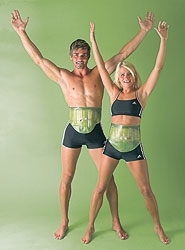 The relevant English-speaking public is composed of the average consumer as well as gym managers or professional athletes who have a higher degree of attention due to the health impact, higher cost and long use or requires trust for these goods and services.
The applied for sign will be understood regarding SLIM as "to make slender" and BELLY as the "stomach" and in relation with the applied for goods and services, it will be perceived as a reference to get more healthy and have a better physical appearance through diet or physical activity. Indeed, a person who is in good shape and in a healthy body will ideally also have a flat slim stomach.
Therefore, the sign is directly descriptive of the type of goods and services as well as lacks distinctive character according to Article 7 (1) b) and c) CTMR.
Posted by: Laetitia Lagarde @ 17.17
Tags:
General Court
,
absolute grounds
,
slim belly
,



Sharing on Social Media? Use the link below...
Perm-A-Link:
https://www.marques.org/blogs/class46?XID=BHA3211
Reader Comments: 0
Post a Comment
MARQUES does not guarantee the accuracy of the information in this blog. The views are those of the individual contributors and do not necessarily reflect those of MARQUES. Seek professional advice before action on any information included here.
The Class 46 Archive