CLASS 46

Now in its twelfth year, Class 46 is dedicated to European trade mark law and practice. This weblog is written by a team of enthusiasts who want to spread the word and share their thoughts with others.
Who we all are...
MONDAY, 16 JULY 2012
General Court: to kill beers with one stone
In case T-323/11, the General Court confirmed the findings of OHIM refusing to register the following CTM application by Unión de Cervecerías Peruanas Backus y Johnston SAA for Class 32 "beers":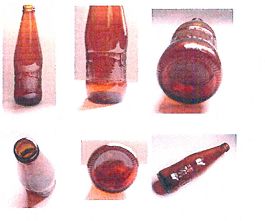 The tridimensional bottle lacked distinctive character on the basis of Article 7 (1) (b) of the CTMR and did not depart significantly from the norms of the sector. Indeed, the amber tinted bottle obeys to a technical necessity for its packaging in order to protect the liquid from the light, its thin long neck allows to grab more easily the drink; the bottle in general is very similar to all the other beer bottles commercialized on the market.
As for the central relief design which represents the "12-angle stone" which is located in the Emperor palace in Cusco, well-known in Peru because it represents the most representative figure of the perfection of the Inca architecture, the GC confirmed that it will not strike the consumer as being distinctive. The applicant claimed that this feature being in the center of the bottle where the label usually is, will serve as a badge of origin. However, the court found that were other beer bottles commercialized in the EU without a central label and rather a middle ornament, and therefore the consumer will not particularly differentiate it from the other beer bottles on the market.
Posted by: Laetitia Lagarde @ 18.02
Tags:
General court
,
absolute grounds
,
12 angle stone
,
Peru
,
beer
,
3-D mark
,



Sharing on Social Media? Use the link below...
Perm-A-Link:
https://www.marques.org/blogs/class46?XID=BHA2901
Reader Comments: 0
Post a Comment
MARQUES does not guarantee the accuracy of the information in this blog. The views are those of the individual contributors and do not necessarily reflect those of MARQUES. Seek professional advice before action on any information included here.
The Class 46 Archive