CLASS 46

Now in its twelfth year, Class 46 is dedicated to European trade mark law and practice. This weblog is written by a team of enthusiasts who want to spread the word and share their thoughts with others.
Who we all are...
WEDNESDAY, 21 MARCH 2012
Turkey: new trade mark blog on the block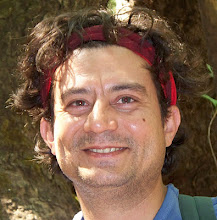 Cinscesitvasif
is the name of a new trade mark weblog which is written in its entirety by Önder Erol Ünsal (
right
). Önder, a trade mark examiner at the Turkish Patent Institute for 14 years, is currently working in WIPO's International Trademark Registration section, where he will be until January 2013.
At present this blog, which began in November 2011, contains some 25 essays, decision comments -- all of which are about trade marks and all of which are in Turkish. Önder seeks to make trade mark decisions, particularly those from the various European instances, better known in Turkey within the court system, in the country's trade mark administration and among members of the profession.
As might be expected, given the author's position, the blog is not being published for any commercial or advertisement purposes. Its name is a contraction of the Turkish words "cins, çeşit, vasıf" [kind, type, quality] and was inspired of the characteristics listed in Article 7/1-(c) of the Turkish Trade Mark Decree Law which regulates the absolute ground of refusal for descriptive marks.
Class 46 welcomes this initiative and looks forward to its success.
Posted by: Blog Administrator @ 16.48
Tags:
Turkey
,
weblog
,



Sharing on Social Media? Use the link below...
Perm-A-Link:
https://www.marques.org/blogs/class46?XID=BHA2770
Reader Comments: 0
Post a Comment
MARQUES does not guarantee the accuracy of the information in this blog. The views are those of the individual contributors and do not necessarily reflect those of MARQUES. Seek professional advice before action on any information included here.
The Class 46 Archive