CLASS 46

Now in its twelfth year, Class 46 is dedicated to European trade mark law and practice. This weblog is written by a team of enthusiasts who want to spread the word and share their thoughts with others.
Who we all are...
FRIDAY, 13 JANUARY 2012
Poland: some similar signs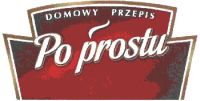 The Company Hj Heinz Poland SA, Pudliszki requested the Polish Patent Office to invalidate the right of protection for the word--figurative trade mark DOMOWY PRZEPIS PO PROSTU (in English: SIMPLY HOME RECIPE) R-219894, owned by the Polish company Tradis sp. z o. o. from Lublin.

The disputed trade mark was applied for goods in Class 29 such as meat, fish, poultry and game. Heinz owns the word-figurative mark HEINZ R-33316, that was registered with priority from 29 January 1947, for goods in Class 29 and 30 such as horseradish, ketchup (hot sauce type), lemon cheese, pasta, mayonnaise, chopped meat, mustard. Heinz argued that DOMOWY PRZEPIS PO PROSTU R-219894 is confusingly similar because it uses the upper portion of the figurative element of Heinz's trade mark. The PPO adjourned the hearings, because the parties have to come to an agreement, because Tradis is a contractor of Heinz, and the Polish company intends to waive the right of protection to the trade mark in questions. Posted by: Tomasz Rychlicki @ 14.50
Tags:
Poland
,
similarity of sings
,
Polish Patent Office
,



Sharing on Social Media? Use the link below...
Perm-A-Link:
https://www.marques.org/blogs/class46?XID=BHA2697
Reader Comments: 0
Post a Comment
MARQUES does not guarantee the accuracy of the information in this blog. The views are those of the individual contributors and do not necessarily reflect those of MARQUES. Seek professional advice before action on any information included here.
The Class 46 Archive