CLASS 46

Now in its twelfth year, Class 46 is dedicated to European trade mark law and practice. This weblog is written by a team of enthusiasts who want to spread the word and share their thoughts with others.
Who we all are...
THURSDAY, 20 OCTOBER 2011
Freixenet, SA v OHIM: Salut! Txin txin!
In Judgments C-344/10 and C-345/10, the Court of Justice of the European Union confirmed the validity of the governing case-law regarding the distinctive character of three-dimensional trademarks which consist of the appearance of the product itself or the packaging of a good.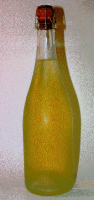 The test to examine the validity of a 3-D trademark is as a follows: the mark must be assessed first, by reference to the goods or services and the perception by the relevant public, and second whether it departs significantly from the norms or customs of the sector and thereby fulfils its essential function of the origin.
The contested judgments of the General Court and decisions of the First Board of Appeal violated Article 7(1) (b) CTMR because they considered the norms of the sector to be that no bottle is ever sold without a label or equivalent, it means the great majority of consumers do not perceive the appearance of the bottles as a useful factor in determining the origin of the sparkling wine in question, but prefer to refer to the label.
The CJEU censored such assessment on the grounds that any mark consisting of the appearance of the packaging of the product itself that do not contain an inscription or a word element, would be excluded automatically from the protection that may be conferred by the CTMR.
Freixenet SA and producers of beverages can rest assured: according to Community trademark law a distinctive feature of a bottle can function as a trademark per se, as long as it 'departs significantly from the norms of the sector'.
Posted by: Laetitia Lagarde @ 17.38
Tags:
Court of Justice EU
,
freixenet
,
3-D mark
,
CTM
,
bottle
,
distinctive character
,



Sharing on Social Media? Use the link below...
Perm-A-Link:
https://www.marques.org/blogs/class46?XID=BHA2596
Reader Comments: 0
Post a Comment
MARQUES does not guarantee the accuracy of the information in this blog. The views are those of the individual contributors and do not necessarily reflect those of MARQUES. Seek professional advice before action on any information included here.
The Class 46 Archive