CLASS 46

Now in its twelfth year, Class 46 is dedicated to European trade mark law and practice. This weblog is written by a team of enthusiasts who want to spread the word and share their thoughts with others.
Who we all are...
MONDAY, 10 MARCH 2008
Austria: Fu Long trade mark dispute and even more polar cubs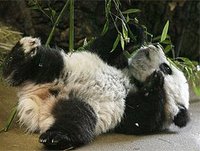 Now that the "Flocke" case has been decided, let's revisit the other "bear"related trade mark dispute we have been following: the trade mark dispute concerning the name of the Panda cub "Fu Long"(Lucky Dragon), which was born in the autumn of last year at the Vienna Schönbrunn zoo.

In its edition of 6 March 2008 the Austrian newssite Der Kurier reports that the Schönbrunn zoo has filed for trade mark protection for the word mark "Fu Long" at the Austrian Patent Office (application No. 243792) and at the same time has also filed a cancellation action with regards to the word-and-device mark "Fu Long". The latter mark had been filed by an applicant from the Kärnten region in October 2007. Gerhard Kasbauer, a spokesperson for the Schönbrunn zoo, is quoted as saying that the zoo had been informed in writing by the Kärnten applicant that he would take the matter to court, should the zoo use the name "Fu Long" for the Panda cub.

In the same article we also learn about two newborn and so far unnamed polar bear cub twins that were recently born in the Schönbrunn zoo near Vienna. Gerhard Kasbauer confirms that the zoo will file for trade mark protection for the names of the polar bear cub twins: "I fear we will have to go to the Patent office when naming them, I don't really believe we have any other chance." When asked whether he believes that the hype around the polar bear "Knut" could be repeated Kasbauer answers as follows: "With such a marketing strategy [like the one used for Knut] we would risk losing our credibility as a zoo. The idea of trade marking animals in itself, that is something that is absurd."

Class 46 comment: These bears are not going away...
Posted by: Birgit Clark @ 07.18
Tags:
austria
,
Austrian Trade Marks
,
fu long
,
Germany
,
Polar cubs
,



Sharing on Social Media? Use the link below...
Perm-A-Link:
https://www.marques.org/blogs/class46?XID=BHA254
Reader Comments: 0
Post a Comment
MARQUES does not guarantee the accuracy of the information in this blog. The views are those of the individual contributors and do not necessarily reflect those of MARQUES. Seek professional advice before action on any information included here.
The Class 46 Archive