CLASS 46

Now in its twelfth year, Class 46 is dedicated to European trade mark law and practice. This weblog is written by a team of enthusiasts who want to spread the word and share their thoughts with others.
Who we all are...
FRIDAY, 2 SEPTEMBER 2011
French trademark law: kids game
Mr Arnaud X registered in 2002 the expression 'boîte à meuh' with the drawing of a stylized cow for goods and services in Classes 16, 25 ,28, 30 and 41 as well as a design in 2003 representing the packaging of the wrapped toy known as 'moo box'. The plaintiff sued the Company Cofalu Kim' play on the grounds of infringement of its IP rights and unfair competition and obtained an interim injunction to seize the contested toys in 3 different stores . The defendant brought a counterclaim arguing nullity of the trademark for lack of distinctiveness and of the design for lack of novelty.
The Court of Appeal of Bordeaux annulled the trademark considering it lacks distinctive character : the naïve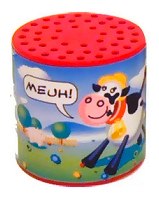 drawing of a milk cow (white and black)-corresponding to the food world of a young child to whom the toy is destined- is necessary for such a toy; the denomination of 'moo box' has become generic because it is descriptive of the function of the toy in terms understandable by a young child who does not speak yet and has been used to identify said toy since 1904.
The French Supreme Court (C.Cass, 7 June 2011) censored the Court of Appeal for finding that the partly figurative trademark was null for all the contested goods and services when it only examined the distinctiveness in respect of the specific children toys which reproduce the sound of a cow.
Posted by: Laetitia Lagarde @ 11.54
Tags:
Cour de cassation
,
France
,
boite a meuh
,
moo box
,



Sharing on Social Media? Use the link below...
Perm-A-Link:
https://www.marques.org/blogs/class46?XID=BHA2516
Reader Comments: 0
Post a Comment
MARQUES does not guarantee the accuracy of the information in this blog. The views are those of the individual contributors and do not necessarily reflect those of MARQUES. Seek professional advice before action on any information included here.
The Class 46 Archive