CLASS 46

Now in its twelfth year, Class 46 is dedicated to European trade mark law and practice. This weblog is written by a team of enthusiasts who want to spread the word and share their thoughts with others.
Who we all are...
TUESDAY, 2 AUGUST 2011
Refill a Heineken cask with Olm: trade mark infringement?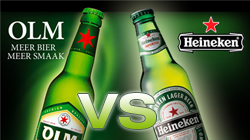 Earlier this year - in March - they already crossed swords with each other before the Presiding Judge of the District Court of The Hague in summary proceedings: Dutch brewers Heineken and Olm. According to Heineken Olm infringed Heineken's logo trade marks. The case attracted a lot of publicity and a short footage of the hearing was even broadcasted by 'NOS Nieuws' - the Dutch public broadcasting corporation's news (more here).
Apparently the parties came to a settlement at the hearing and the matter silenced afterwards, but the silence was disrupted last week: once again Heineken has started summary proceedings against Olm and once again trade mark infringement is at the heart of the matter. Heineken now accuses Olm of re-filling Heineken casks with (cheaper) Olm beer and selling those casks to bars and re-sellers. Heineken claims that Olm infringes the Heineken trade mark(s) with such refills, while Olm counters with the argument that such refills occur only occasional and are a consequence of the deposit system in the Netherlands. The director of Olm holds that even Heineken sometimes refills casks of other trade marks, which is denied categorically by Heineken. The Presiding Judge will hear the case on August 4, 2011.
This will probably be a first chance for a Dutch court to review refills as under consideration according to the recent decision by the ECJ on July 14, 2011 in the Viking Gas vs Kosan Gas (case C-46/10). The ECJ decided (confirmed) that articles 5 and 7 of First Council Directive 89/104/EEC must be interpreted as meaning that the holder of an exclusive licence for the use of composite gas bottles intended for re-use, the shape of which is protected as a three-dimensional mark and to which the holder has affixed its own name and logo that are registered as word and figurative marks, may not prevent those bottles, after consumers have purchased them and consumed the gas initially contained in them, from being exchanged by a third party, on payment, for composite bottles filled with gas which does not come from the holder of that licence, unless that holder is able to rely on a proper reason for the purposes of article 7(2) of Directive 89/104.
Posted by: Gino Van Roeyen @ 20.44
Tags:
trade mark infringement
,
Netherlands
,
refill
,
Heineken
,
Olm
,
proper reason
,



Sharing on Social Media? Use the link below...
Perm-A-Link:
https://www.marques.org/blogs/class46?XID=BHA2485
Reader Comments: 0
Post a Comment
MARQUES does not guarantee the accuracy of the information in this blog. The views are those of the individual contributors and do not necessarily reflect those of MARQUES. Seek professional advice before action on any information included here.
The Class 46 Archive