CLASS 46

Now in its twelfth year, Class 46 is dedicated to European trade mark law and practice. This weblog is written by a team of enthusiasts who want to spread the word and share their thoughts with others.
Who we all are...
THURSDAY, 14 JULY 2011
Nespresso vs. Denner: still brewing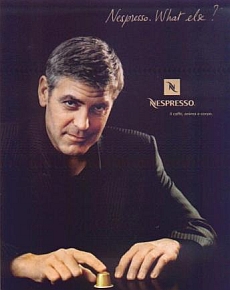 In the fight between Nestlé and the Swiss retailer Denner over the sale of coffee-capsules compatible with Nestlé's Nespresso machines, the Federal Supreme Court has annulled the decision of the Commercial Court of St. Gall on procedural grounds and sent the case back to the lower court (I imagine the judges looking as stern as Clooney above, but not as good...).
As reported on Class 46, the Commercial Court of St. Gall, in preliminary injunction proceedings, had denied Nestlé's request for an injunction of the sale of the compatible coffee capsules. It held that Nestlé had failed to show that it was technically possible to produce compatible capsules without incurring substantial disadvantages.
The Federal Supreme Court rebuked the lower court for having come to this conclusion without the aid of a court appointed technical expert. This was a violation of Nestlé's due process rights (right to be heard, rechtliches Gehör). The case was sent back and the Commercial Court of St. Gall will now have to find an independent expert, who will file an opinion on whether there are alternative shapes of coffee capsules that are compatible with the Nespresso system, and not clearly inferior to the trade marked shape.
Of course, this is all going to take a while - at least 6 months in my experience. Which is why the St. Gall court probably tried to do without an expert opinion. At least in preliminary injunction proceedings, that approach has some merits. The expert opinion could be obtained in the proceedings on the merits. There is a trade-off between speed and accuracy, and the Federal Supreme Court (not for the first time) favors accuracy over speed [EDIT: the original post read "speed over accuracy", which is exactly wrong. This post was written quickly...].
The written grounds of the decision of 15 June 2011 have not been published yet. Until then, Denner continues to sell the capsules.
Press release by the Federal Supreme Court; summary by University of Zurich.
Posted by: Mark Schweizer @ 10.35
Tags:
Switzerland
,
shape marks
,
absolute grounds of refusal
,
preliminary injunction proceedings
,



Sharing on Social Media? Use the link below...
Perm-A-Link:
https://www.marques.org/blogs/class46?XID=BHA2458
Reader Comments: 0
Post a Comment
MARQUES does not guarantee the accuracy of the information in this blog. The views are those of the individual contributors and do not necessarily reflect those of MARQUES. Seek professional advice before action on any information included here.
The Class 46 Archive