CLASS 46

Now in its twelfth year, Class 46 is dedicated to European trade mark law and practice. This weblog is written by a team of enthusiasts who want to spread the word and share their thoughts with others.
Who we all are...
WEDNESDAY, 12 MARCH 2008
Spongebob, Dora and Go Diego Go bag Vadobag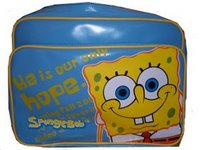 Spongebob, Dora and Diego make an impressive appearance in a decision, lodged on Monday, by the Presiding Judge of the District Court of The Hague (Mr G.R.B. van Peursem) in summary proceedings, between Viacom International Inc. (MTV) and Vadobag, a family owned Dutch company, established 121 years ago, originally as a bag producer and trader but at present also active in the production of merchandise (see here). Vadobag produces a wide variety of bags for an even wider variety of labels, such as Ajax, Mickey Mouse and the Beatles, to name a few). Also included are stationery articles, for example notebooks, cases, ring binders and diaries. The Vadobag business is operated through separate but linked legal entities (Vadobag B.V., Vadobag Special Products B.V. and H + L Creations B.V.).

Spongebob, Dora and Diego are leading characters in cartoons, broadcast in the Netherlands and elsewhere in Europe on Nickelodeon, a television channel operated by MTV, owned by Viacom International Inc. Viacom holds an extensive portfolio of trade mark registrations with regard to these characters. Spongebob, Dora and Diego are protected by word marks and by figurative marks in which their names are included as a word element. Several trade mark registrations cover the Community and the Benelux, which reveal quite a variety of classes, that seems to reflect a hotchpotch of products, for example pens, household textile articles, stationery, clothing, headgear, knapsacks, games and playthings.

MTV entered into non-exclusive merchandise agreements governed by the laws of the state New York through a choice of law clause and with a choice of forum for the Courts of New York - for the Benelux with H+L concerning (Nickelodeon) Spongebob (Squarepants) and Dora (The Explorer). The Spongebob agreement expired on 31 October 2007 and the Dora agreement expired on 28 February 2008. The parties also entered into a non-exclusive merchandise agreement - based on a so called 'deal memo' - concerning (Go) Diego (Go), an agreement that expires on 31 March 2008.

In mid-October 2006 the legal department of MTV London instructed Vadobag to ensure that only the Dutch language would appear on the merchandise, 'to avoid conflicts between our licensees who are (producing and trading? – Gino) licensed products within the same category as our contracts our issued on a non-exclusive basis'. Legal stressed that MTV was 'not trying to prevent you from selling abroad, but preventing unnecesarry conflict between Licensees by ensuring that there is enough space in the market for Licensee's to co-exist.'

It appears that this 'language' instruction caused a conflict between the parties regarding its interpretation which the parties were not able to solve until the end of July 2007. According to Vadobag the background of the instruction was that it had achieved substantial passive sales in France, which can not be prohibited according to EC Competition Law. The instruction should be regarded as an attempt by MTV to combat these sales de facto. Vadobag has lodged a complaint with the European Commission, but the administration of this complaint has not yet been put into motion. MTV opposed this view.

Vadobag's attorney-at-law gave unilateral notice to MTV that the three licence agreements should be regarded as extended with one year because of alleged contractual failures by MTW, which was rejected by MTV.

Because Vadobag still continued the sale of the merchandise and the agreements were expired or – as far as Diego is concerned would expire on 31 March 2008 – MTV started summary proceedings against Vadobag c.s. on 14 January 2008, which the Presiding Judge dealt with at a hearing on 18 February 2008. MTV argued that Vadobag infringed the involved trade mark rights and copyrights by continuing sales without a licence.

Vadobag counterclaimed, arguing that it had encountered damages due to the alleged contractual failures of MTV, and claimed an order against MTV to continue the agreements with one year after expiration. Having established that the Court was competent to hear the case the Presiding Judge dealt extensively with all the issues that divide the parties.

Vadobag's first defence against the trade mark infringement claim that MTV had not provided valid licences because the registrations, especially the Spongebob registrations, did not include class 18 for bags and stationery, was rejected. First, the Nice classification is not a criterion on which to assess similarity of goods. Further, the Court finds that the involved characters are well known trade marks as defined by Article 9(1)(c) CTMR and Article 20(1)(c) BTIP, thus the similarity issue is a non-issue. And: at least the products bags and stationary should be regards as similar to the products for which MTV's has enforced trade mark registrations. Because the involved trade marks are identical, there is also a risk of confusion. Thus it can be concluded that MTV can also object successfully against Vadobag's use of the trade marks on the basis of Article 9(1)(b) CTMR and Article 20(2)(1)(b) BTIP.

The second defence of Vadobag – that the licence agreements with regard to Spongebob and Nora have been extended due to the unilateral notice – was rejected too. MTV provided the Court with a legal opinion of a American attorney at law, admitted to the New York Bar, that those agreements were expired and could not be extended by the unilateral notice of Vadobag. Vadobag did not provide evidence to the contrary.

The Court established the same conclusion with regard to the 'deal memo' (Diego) agreement, which is – in the absence of a deviant choice of law - governed by Dutch law, because Vadobag delivers the characteristic performance.

Conclusion: Vadobag is no longer entitled to use the trade marks for the merchandise. An injunction is justified. Vadobag can not object this injunction invoking Article 98(1) CTMR: there are no special grounds not to impose an injunction (Vadobag argued that their was a structural sabotage from MTV's side, after Vadobag had rejected the 'language'-instruction; this argument failed according to the Court, if only because their was a lack of evidence of such sabotage, to justify the application of the far-reaching restriction of Article 98(1) CTMR). The injunction awarded to MTV is pan-European.

Vadobag's counterclaim was refused. The Court decided that such a claim amounted to a declaration that MTV acted unlawfully, for which a summary proceeding was not the proper stage, especially since indisputable evidence of unlawful acting lacks. The counterclaim can only be processed in a procedure on the merits, especially also because the Spongebob and Dora agreements contained a choice of forum for the Courts of the State of New York.

With regard to the legal costs (a hot issue in the Netherlands since the Enforcement Directive should have been implemented) the Court awarded a total amount to MTV of €11.888,88 (main action) and €11.888,88 (defence against counterclaim).
Posted by: Gino Van Roeyen @ 10.21
Tags:
Netherlands
,
use of marks outside scope of licence
,



Sharing on Social Media? Use the link below...
Perm-A-Link:
https://www.marques.org/blogs/class46?XID=BHA245
Reader Comments: 0
Post a Comment
MARQUES does not guarantee the accuracy of the information in this blog. The views are those of the individual contributors and do not necessarily reflect those of MARQUES. Seek professional advice before action on any information included here.
The Class 46 Archive