CLASS 46

Now in its twelfth year, Class 46 is dedicated to European trade mark law and practice. This weblog is written by a team of enthusiasts who want to spread the word and share their thoughts with others.
Who we all are...
THURSDAY, 13 MARCH 2008
Germany: Federal Patent Court "GALLUP II"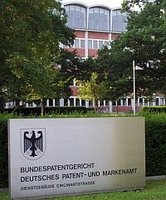 In an advance publication the German Federal Patent Court (Bundespatentgericht) has published the following brief guidelines regarding similarity of goods and services in classes 16 and 35, 42:


"GALLUP II
1. The free cirulation of two periodically published magazines in a print run of up to 500 issues per month, as well as the free and mostly for marketing purposes actioned dispatch of more than 800 issues of four books to potential clients, which bear reference to the business of the claimant, are - in combination with minor sales (here under €300 during the relevant time frame) - sufficient to show serious (genuine) use of magazines and printed matter (confirming BGH, decision of 6.10.2005 - I ZB 20/03, GRUR 2006, 152 = MarkenR 2006, 30 - GALLUP)

2. Printed matter and other goods and services are not just to be regarded as similar because the latter can be the topic or the subject matter of a printed matter. However, similarity can arise if there is very close tangency, for example in cases of similar purpose or functional connection, i.e. in cases of complementary or interchangeable printed matter or other goods and services, insofar the relevant consumer circles in the relevant market - due to the special circumstances of the case - can assume that the goods and services originate from the same economic entity, (this may be the case regarding goods in class 16: Périodiques et rapports concernant l´étude de l´opinion publique, ainsi que les problèmes sociaux …, et relatifs à l´étude du marché" [French in the original German decision] on the one hand and services of classes 35 and 42 (market research, opinion polls and social research) on the other hand." [unofficial translation]
Case ref: 33 W (pat) 205/01 of 15 January 2008
Posted by: Birgit Clark @ 17.58
Tags:
Bundespatentgericht
,
German trade marks
,
similarity of goods
,



Sharing on Social Media? Use the link below...
Perm-A-Link:
https://www.marques.org/blogs/class46?XID=BHA241
Reader Comments: 0
Post a Comment
MARQUES does not guarantee the accuracy of the information in this blog. The views are those of the individual contributors and do not necessarily reflect those of MARQUES. Seek professional advice before action on any information included here.
The Class 46 Archive