CLASS 46

Now in its twelfth year, Class 46 is dedicated to European trade mark law and practice. This weblog is written by a team of enthusiasts who want to spread the word and share their thoughts with others.
Who we all are...
MONDAY, 23 MAY 2011
Battle of the March
Carmen March Juan is a Spanish designer, whose recent victory in the General Court of the European Union,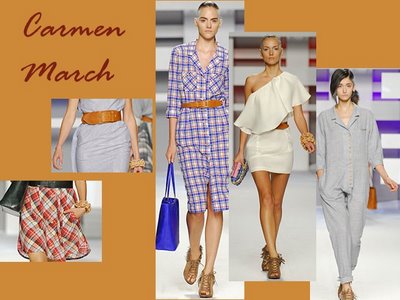 was unfortunately not necessary anymore to pursue her profession (click here for Adiós Carmen).
In case T-433/09, the Opposition Division had rejected the opposition between TILA MARCH and earlier Spanish trademark CARMEN MARCH; the second Board of Appeal annulled the decision, which was confirmed by the GC.
The contested CTM was rejected on the grounds of Article 8 (1) b) CTMR for identical goods in classes 3, 18 and 25. For the Spanish consumer, Carmen is a popular first name followed by the last name 'March'- although not a very common one- will be perceived nonetheless as such by the relevant public. Although Tila has a meaning in Spanish, referring to a kind of tea (line blossom), the more distinctive element remains MARCH. Thus for the goods in question, the consumer will perceive both trademarks as names of persons belonging to the same designer family, and create a visual, phonetic and conceptual similarity sufficient to create likelihood of confusion.
Posted by: Laetitia Lagarde @ 18.58
Tags:
General court
,
confusion
,
carmen march
,



Sharing on Social Media? Use the link below...
Perm-A-Link:
https://www.marques.org/blogs/class46?XID=BHA2389
Reader Comments: 0
Post a Comment
MARQUES does not guarantee the accuracy of the information in this blog. The views are those of the individual contributors and do not necessarily reflect those of MARQUES. Seek professional advice before action on any information included here.
The Class 46 Archive