CLASS 46

Now in its twelfth year, Class 46 is dedicated to European trade mark law and practice. This weblog is written by a team of enthusiasts who want to spread the word and share their thoughts with others.
Who we all are...
MONDAY, 23 MAY 2011
Poland: Tabasco's troubles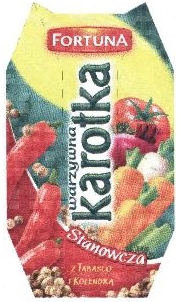 On 27 May 2008, the Polish Patent Office registered the word-figurative trade mark FORTUNA WARZYWNA KAROTKA STANOWCZA Z TABASCO I KOLENDRĄ R-209338. This sign was applied for by the Polish company Agros Nova sp. z o.o. from Warsaw for goods in class 32 such as juices, nectars and vegetable beverages, multi-vegetable nectars and vegetable beverages with the addition of micro and/or macroelements and/or vitamins and/or substance supporting the metabolic processes and/or flavorings, spices and herbs, sports and energy drinks, products for production of beverages: extracts, essences and concentrates, seasonings, and syrups, instant drinks.
Mc Ilhenny Company filed a request for invalidation of Agros' trade mark. Mc Ilhenny is the owner of the word trade mark TABASCO R-51500 registered with the earlier priority of 24 March 1973, in class 30 for pepper sauce.
The Adjudicative Board of the PPO in its decision of 11 May 2011 case no. Sp. 207/10 dismissed the request. The PPO ruled that there is no likelihood of confusion between both trade marks because Agros' trade mark is a label with rich graphics, where the words "karotka" and "fortuna" are located in a central position, and the word "Tabasco" is placed below and it's not a dominant element of the whole sign. It only appears at the bottom of the label, and is written in a small font. This decision is not final yet. A complaint can be brought to the Voivodeship Administrative Court in Warsaw. Posted by: Tomasz Rychlicki @ 16.04
Tags:
Polish Act on Industrial Property Law
,
Polish institutions
,
Polish Patent Office
,
similarity of goods
,
similarity of services
,
trade mark invalidation
,



Sharing on Social Media? Use the link below...
Perm-A-Link:
https://www.marques.org/blogs/class46?XID=BHA2384
Reader Comments: 0
Post a Comment
MARQUES does not guarantee the accuracy of the information in this blog. The views are those of the individual contributors and do not necessarily reflect those of MARQUES. Seek professional advice before action on any information included here.
The Class 46 Archive