CLASS 46

Now in its twelfth year, Class 46 is dedicated to European trade mark law and practice. This weblog is written by a team of enthusiasts who want to spread the word and share their thoughts with others.
Who we all are...
WEDNESDAY, 3 NOVEMBER 2010
Nijntje gives Kathy the go-by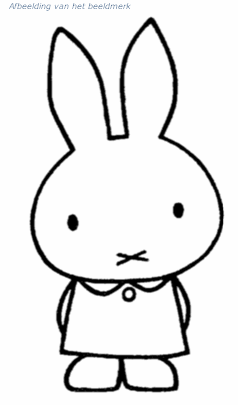 Nijntje – represented by her mother Dutch company Mercis, owner of the figurative Nijntje trade mark registered in the Benelux with number 573738 - defeated Kathy – represented by her Japanese mother Sanrio and her German aunt Sanrio GmbH - yesterday before the Presiding Judge of the District Court Amsterdam. See earlier report here. Although the victory is first and foremost based on the Judge's finding of copyright infringement (Kathy is a non-original reproduction), it is also backed by a finding of trade mark infringement, taking into account the following considerations.
The Presiding Judge rejected Kathy's defense that Nijntje is not a trade mark (to distinguish goods or services as defined in art. 2.1 par. 1 of the Benelux Convention on Intellectual Property: 'Names, designs, stamps, seals, letters, figures, shapes of products or packaging and all other signs able to be represented graphically and used to distinguish the goods or services of a company shall be regarded as individual trademarks'). Nijntje is not only used as a character as Kathy argued. The Presiding Judge was convinced by Nijntje that she is definitely also used as a trade mark. Nijntje showed a small puppet of herself to the Presiding Judge, packed in little box with a label provided with the figurative Nijntje trade mark.
Nijntje was furthermore not exiled from trade mark protection as a sign that solely comprises a shape which gives the product substantial value (art. 2.1 par. 2 BCIP). Only shape trade marks which are the product itself can be exiled. The figurative trade mark Nijntje does not coincide with the Nijntje products. Nijntje is a figurative trade mark that materializes in different ways (two-dimensional in booklets and as image on other appliances and in movies, three-dimensional as a toy puppet, etcetera).
Kathy did not present (enough) valid arguments to convince the Presiding Judge that Nijntje would not survive an action for invalidity or revocation.
The opening by the Presiding Judge with regard to the alleged trade mark infringement is notable: since Kathy is not used to distinguish goods or services by its mother Sanrio and her licensees, Kathy can not be considered to be a trade mark. Accordingly Nijntje has no action against Kathy on the basis of article 2.20 par. 1 under b BCIP (risk of confusion based infringement). This provision requires use of the alleged infringing sign as a trade mark. Kathy is just a character, a friend of Kitty, one of the thousands girl and boy friends with whom Kitty plays. Kathy, Kitty and the other characters are marketed by the use of the trade mark 'Hello Kitty'.
Nijntje was not dounted by this, since she also relied on article 2.20 par. 1 under d BVIE (dilution based infringement by use of a trade mark for purposes other than those of distinguishing goods or services), which did not fall on deaf ears. The Presiding Judge ruled that Kathy is used for such purposes. Nijntje and Kathy are furthermore nearly identical, even if Kathy is compared with the figurative trade mark, according to which Nijntje has pointed ears. Thus Kathy takes unfair advantage of Nijntje without due cause and is Kathy detrimental to the distinctive character and the repute of Nijntje. Kathy rides on the coat-tails of Nijntje in order to benefit from Nijntje's power of attraction and prestige. Without paying any financial compensation Kathy profits from the marketing effort expended by the proprietor of Nijntje. The Presiding Judge relies on Nijntje being a well known trade mark which enjoys a great distinctiveness. The mother of Kathy is competitor of Nijntje's mother and markets more or less similar goods. Kathy's mother did not deny that Nijntje was designed in 1955 and introduced in Japan in the seventies of the previous century. Nijntje is very popular in Japan. With the character Kathy, Kathy's mother maintains not enough distance from the figurative trade mark Nijntje, the Presiding Judge concluded.
Posted by: Gino Van Roeyen @ 16.49
Tags:
Nijntje
,
Netherlands
,
Benelux trade mark
,



Sharing on Social Media? Use the link below...
Perm-A-Link:
https://www.marques.org/blogs/class46?XID=BHA2087
Reader Comments: 0
Post a Comment
MARQUES does not guarantee the accuracy of the information in this blog. The views are those of the individual contributors and do not necessarily reflect those of MARQUES. Seek professional advice before action on any information included here.
The Class 46 Archive