CLASS 46

Now in its twelfth year, Class 46 is dedicated to European trade mark law and practice. This weblog is written by a team of enthusiasts who want to spread the word and share their thoughts with others.
Who we all are...
TUESDAY, 3 AUGUST 2010
Autopaint: court reviews principles for assessing infringement damages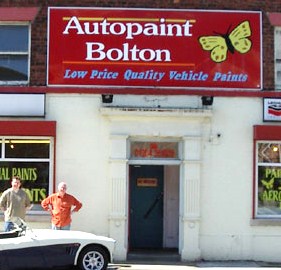 Fearns (trading as Autopaint International) v Anglo-Dutch Paint & Chemical and others
[2010] EWHC 1708 (Ch), 9 July 2010 (Chancery Division, England and Wales) is an interesting ruling from a British court on the computation of damages for trade mark infringement.
Back in the early 1980s Fearns established a substantial unincorporated business called 'Autopaint International', this name being registered as a trade mark. This business involved selling paint and related products for use in spray-painting cars. Most of these paints were 'tinters', which were mixed by the shop before sale to a customer.
Fearns didn't make the paint and ancillary products himself, but bought them from various suppliers, selling them under the Autopaint brand. Anglo-Dutch was Fearns' main supplier and the UK distributor of the second defendant, a Dutch company that manufactured the products. Fearns' business comprised two parts: a chain of shops and a network of franchised distributors. Sales to franchisees were significantly more profitable than sales through his own shops.
Since Fearns was constantly late in paying his main supplier, from June 2004 Anglo-Dutch made sales of significant quantities of Autopaint branded products directly to Fearns' franchisees. In June 2005 Anglo-Dutch and the paint manufacturer invited the franchisees to a meeting in order to persuade them to commit themselves to buying paint and commodity products from Anglo-Dutch. Fearns objected and wrote to tell the franchisees that neither Anglo-Dutch nor the paint-making company were authorised to supply Autopaint products.
Since by this time Fearns' business had fallen into severe financial difficulties, Anglo-Dutch and the paint-making company stopped selling products under the Autopaint trade mark, selling to the franchisees identical products under a new trade mark, 'Tempo'. Fearns, losing further business, entered into an individual voluntary arrangement with his creditors, then sued Anglo-Dutch and the paint-maker for trade mark infringement and passing off.
Following an appeal to the Court of Appeal it was found that the defendants were liable for trade mark infringement, passing off and breach of contract. The Chancery Division then conducted an enquiry into damages. In this case the issue of causation was considered afresh. The central issue was whether the trade mark infringement and passing off, in addition to depriving Fearns of profits, had caused the collapse of his business. According to Fearns, the defendants induced the franchisees to stop buying from him; the transfer of franchisees' custom to Anglo-Dutch and the paint-making company had a catastrophic effect on the profitability and viability of the Autopaint business and led to his insolvency. The defendants contended that the defection of the franchisees resulted from Fearns' inability to supply the franchisees due to his cash flow difficulties.
According to the judge
* There were two essential principles in valuing a trade mark infringement claim: (i) the claimant must prove his loss; (ii) damages should be liberally assessed on the basis that the object was to compensate the trade mark owner, not to punish the infringer.
* On the evidence, even though it was fair to infer that the unlawful use of the Autopaint trade mark was a factor which induced franchisees to switch their business away from Fearns and buy all their paint products from Anglo-Dutch, the collapse of Fearns' Autopaint business was as a result of the loss of those franchisees or otherwise of the infringers' unlawful acts. At most, those matters had accelerated the process, not caused it.
* By the time the franchisees had been lost, Fearns' Autopaint business was no longer viable and would have failed in any event. This did not however mean that the loss of the franchisees had no financial effect. Its consequence wouldhave been to cause Fearns to lose further sales and, accordingly, the profits on those sales, even though such profits would not have saved Fearns from insolvency.
* Being in principle entitled to recover for such lost profit, Fearns was entitled to recover damages of £162,679 for infringement of the Autopaint trade mark and passing off up to the end of June 2005, plus further damages for the loss of his franchisee network.
Source: LexisNexis note.
Posted by: Blog Administrator @ 15.43
Tags:
Damages
,
Perm-A-Link:
https://www.marques.org/blogs/class46?XID=BHA1954
MARQUES does not guarantee the accuracy of the information in this blog. The views are those of the individual contributors and do not necessarily reflect those of MARQUES. Seek professional advice before action on any information included here.
The Class 46 Archive