CLASS 46

Now in its twelfth year, Class 46 is dedicated to European trade mark law and practice. This weblog is written by a team of enthusiasts who want to spread the word and share their thoughts with others.
Who we all are...
MONDAY, 22 FEBRUARY 2010
"Easter bunnies' case" back at the Austrian court of first instance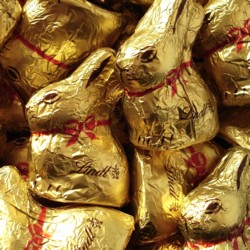 Our readers will recall the ECJ's judgment in Case C‑529/07 (see our report here), Chocoladefabriken Lindt & Sprüngli AG v Franz Hauswirth GmbH, also known as the "Easter bunnies' case", which was a reference for a preliminary ruling from Austria on the question of how to establish bad faith in trade mark invalidity proceedings. By way of reminder, in case C‑529/07 the ECJ had held the following:
"In order to determine whether the applicant is acting in bad faith within the meaning of Article 51(1)(b) of Council Regulation ... 40/94 ..., the national court must take into consideration all the relevant factors specific to the particular case which pertained at the time of filing the application for registration of the sign as a Community trade mark, in particular:

– the fact that the applicant knows or must know that a third party is using, in at least one Member State, an identical or similar sign for an identical or similar product capable of being confused with the sign for which registration is sought;

– the applicant's intention to prevent that third party from continuing to use such a sign; and

– the degree of legal protection enjoyed by the third party's sign and by the sign for which registration is sought".
The Austrian Broadcasting Corporation (ORF) has recently reported on the progress of this case, now that is back at the court of first instance, the Handelsgericht. Harald Schmidt, one of the lawyers acting for Hauswirth, is cited by the ORF as having said that the Austrian first instance court has now requested that Lindt provide evidence showing how well known the Lindt bunnies were in Germany in the year 2000 (this appears to relate to point three above: "degree of legal protection enjoyed"). Unfortunately the report does not provide any information as to how Lindt might be able to provide this information, so this member of Class 46 expects that an old survey (if conveniently available) will have to be used, which either dates from 2000 or at least allows to draw conclusions as to how well the bunnies were known to the relevant consumers in 2000. It is somehow not much of a surprise that Mr Schmidt does not expect a decision in this case before 2012 - this would be 12 years (!) after this dispute started.
Reading the readers comments left on the ORF website, this Class 46 member noticed that one cynical reader wondered whether this whole case was nothing more than a joint marketing plot by Lindt and Hauswirth to keep their little bunnies in the news. Nice idea, but would they really do that for 12 years….?
Posted by: Birgit Clark @ 12.23
Tags:
ecj
,
austria
,
bunnies
,
bad faith
,



Sharing on Social Media? Use the link below...
Perm-A-Link:
https://www.marques.org/blogs/class46?XID=BHA1692
Reader Comments: 0
Post a Comment
MARQUES does not guarantee the accuracy of the information in this blog. The views are those of the individual contributors and do not necessarily reflect those of MARQUES. Seek professional advice before action on any information included here.
The Class 46 Archive