CLASS 46

Now in its twelfth year, Class 46 is dedicated to European trade mark law and practice. This weblog is written by a team of enthusiasts who want to spread the word and share their thoughts with others.
Who we all are...
THURSDAY, 13 AUGUST 2009
Milan Court clarifies validity requirements of registered Community designs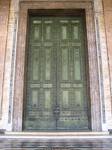 The claimant Lualdi S.p.A, an Italian firm well-known worldwide for its door designs, alleged infringement of its registered multiple Community design for its 'Outline' door. Unlike the usual solutions of doors "aligned" with the wall surface, the 'Outline' door 'stands out and makes a strong decorative contribution, by emerging from the wall and actually being detached from the latter to create an effect through a volume in a space.
The defendant, Dorica Castelli S.p.A., who exhibited its own very similar 'Quadro' door at a Milan trade fair, argued that the registered Community design was invalid.
Essentially, in assessing the validity of the RCD, the Milan Court defined the 'informed user' as:
"a purchaser who is particularly attentive to the goods in question but is not an architect or a designer and who does not leave the choice of purchase to another but informs himself by consulting catalogues, magazines and experts to find the product that best fits his needs".
This view is in line with the current OHIM Board of Appeal case law (see,
inter alia,
R1337/2006-3; appealed to the CFI under Case No T-10/08, pending).
In addition, with regard to the assessment of the individual character of a design, this decision appears to recognize, for the first time in Italian case law and in line with the available OHIM decisions, that the individual character may result from the combination of the characteristics of previous designs, provided that the overall impression produced by the new design on the informed user is different from that of the prior designs.
In conclusion, the Court held that Lualdi's 'Outline' door design was valid and had been infringed by the defendant's 'Quadro' door, and issued an injunction preventing the defendant from producing, marketing and selling the defendant's door design. The defendant was further ordered to pay a € 1,000 fine for each future infringement, as well as the costs of the proceedings.

(Picture attached of ancient bronze Roman doors from the ancient Roman senate, Curia Julia, taken from the Roman forum and moved in 1660 to become the main door of the Basilica of St. John Lateran)
Posted by: Daniella Ampollini @ 15.47
Tags:
Community designs
,
individual character
,
informed user
,



Sharing on Social Media? Use the link below...
Perm-A-Link:
https://www.marques.org/blogs/class46?XID=BHA1267
Reader Comments: 0
Post a Comment
MARQUES does not guarantee the accuracy of the information in this blog. The views are those of the individual contributors and do not necessarily reflect those of MARQUES. Seek professional advice before action on any information included here.
The Class 46 Archive