CLASS 46

Now in its twelfth year, Class 46 is dedicated to European trade mark law and practice. This weblog is written by a team of enthusiasts who want to spread the word and share their thoughts with others.
Who we all are...
WEDNESDAY, 22 JULY 2009
Can cognitive science justify dilution claims?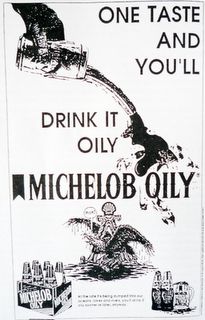 Whether trade mark owners should have a claim against the use of their mark absent a likelihood of confusion is a highly contentious issue. In view of the latest ECJ decisions in Intel vs CPM and L'Oréal vs Bellure, I suspect the issue won't leave us alone for some time.

Professor Rebecca Tushnet of Georgetown University Law Center explores in an interesting article whether cognitive science can provide evidence for the ever elusive dilution or tarnishment of a trade mark and justify the prohibition of dilution/tarnishment.

For example, in 1989 Anheuser-Busch, the owner of the MICHELOB DRY brand of beer, brought an action against the publisher of the parody to the right (click on it for a larger view). Participants in a study submitted in the litigation were shown either an ad for Michelob Dry or the mock ad for Michelob Oily. Thirty-seven percent of those shown the Michelob Oily ad "associat[ed] a negative meaning with Michelob or Anheuser Busch," while no one who saw a Michelob Dry ad did so (the brand owner won the suit).

In 2000, Maureen Morrin and Jacob Jacoby conducted an experiment to test for dilution of a trade mark by use for goods unrelated to those the trade mark is well-known (or even famous) for. The study had participants view diluting ads for Heineken popcorn, Hyatt legal services and others. The ads were "tombstone" ads—print only and highly informational. The Heineken and Hyatt ads contained prominent disclaimers of affiliation with Heineken beer and Hyatt hotels, respectively. Computers measured how long it took for participants to identify the senior marks after exposure to the junior marks. Morrin and Jacoby found that exposure to dilutive ads slowed participants' accuracy and response time in associating some brands with product categories and attributes. Exposure to dilutive ads led to an average response time of 770 milliseconds before respondents recognized the senior brand as fitting in its category, versus 675 milliseconds after exposure to an ad for the senior brand (reinforcement) and 748 milliseconds after exposure to unrelated ads (control). In the lab, dilution-generated delayed response times have been correlated with later decreases in the likelihood that subjects will choose a diluted brand from among competing alternatives.

Rebecca Tushnet is highly sceptical whether the "cognitive search cost" model of dilution can support current (U.S.) doctrine on dilution. I do not have a formed opinion on the subject, but I believe that this kind of research is a step forward and can help lift the discussion, which sometimes sounds a bit like a Monty Python sketch (dilution should be actionable - no it shouldn't - yes it should - no it shouldn't), on a more fruitful level. So go and read the article, it makes for an interesting read in any case.
Posted by: Mark Schweizer @ 11.11
Tags:
Dilution
,
evidence
,
parody
,
tarnishment
,
US courts
,



Sharing on Social Media? Use the link below...
Perm-A-Link:
https://www.marques.org/blogs/class46?XID=BHA1218
Reader Comments: 0
Post a Comment
MARQUES does not guarantee the accuracy of the information in this blog. The views are those of the individual contributors and do not necessarily reflect those of MARQUES. Seek professional advice before action on any information included here.
The Class 46 Archive