CLASS 46

Now in its twelfth year, Class 46 is dedicated to European trade mark law and practice. This weblog is written by a team of enthusiasts who want to spread the word and share their thoughts with others.
Who we all are...
WEDNESDAY, 27 MAY 2009
Class dispute over similarity of goods too complex for summary judgment
Daimler AG v Sany Group Co Ltd [2009] EWHC 1003 (Ch) is a Chancery Division decision of the High Court for England and Wales, handed down earlier this month by Geoffrey Hobbs QC, sitting as a deputy judge. Daimler owned two national registered trade marks and one Community trade mark, all of which were well-known figurative marks (reproduced below) in the United Kingdom. Those trade marks were registered for goods in Classes 7 and 12, which included goods such as motors, engines, and vehicles.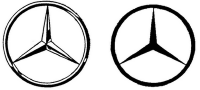 Sany, which was using a figurative sign (below) in various countries, applied to register its figurative sign in combination with the word SANY as a trade mark in the United Kingdom, also for use in relation to goods in Classes 7 and 12.


According to Daimler, Sany was selling -- or threatening and intending to sell -- 'vehicles' such as crates, excavators, and truck-mounted pumps under its figurative mark, with and without the verbal element 'SANY'. Daimler sought to stop Sany using that mark on the basis that such use would infringe, alleging both likelihood of confusion and the taking of advantage/inflicting detriment, without undue cause, of the reputation of Daimler's marks.
Sany conceded that it had sold, and intended to sell, construction machinery in the UK under its marks, but maintained that there was too low a degree of similarity between its marks and Daimler's for there to be a finding of liability. Sany also counterclaimed for cancellation of Daimler's marks in part on the ground of non-use. Daimler accepted that there had been non-use in relation to vacuum cleaners, electric drills, incubators for eggs and boilers for use in agriculture (Class 7), or bathchairs (Class 12), but nonetheless applied for summary judgment in relation to those uses of its mark which, it felt, clearly supported its infringement claims. Sany opposed this application.

Geoffrey Hobbs QC refused the application for summary judgment, holding as follows:
* Even where one mark was identical to another with a highly distinctive character, it was still necessary to adduce evidence of similarity between goods or services covered before a likelihood of confusion could be established, since "likelihood of confusion" under Directive 89/104 presupposed that the goods or services covered were identical or similar. Mere association of the marks without the existence of a likelihood of confusion was not sufficient to give rise to liability for infringement.

* In this case it was clear that Daimler's marks had been used in relation to commercial vehicles, including trucks and truck chassis, and that commercial vehicle usage extended to use in construction industry contexts. However, the extent to which Daimler's marks had actually been used in relation to truck mounted machinery and equipment so as to function as an indication of trade origin in relation to the assembly as a whole was open to question on the evidence before the court. That dispute was part of the wider dispute between the parties concerning the degrees of similarity and dissimilarity between the various goods in issue.

* since those matters could not be regarded as immaterial to the existence of a likelihood of confusion, and could not be finally resolved by way of summary adjudication on the basis of incomplete evidence, and since it was an open question whether the similarities between the marks in issue were outweighed by the differences between them so as to exclude the existence of a likelihood of confusion in relation to some or all of the goods in issue even in the absence of evidence of confusion, the dispute could not be determined on an application for summary judgment and had to go to full trial.
The Deputy judge observed noted that there was an inconsistency in approach between the manner in which OHIM and the UK's Intellectual Property Office (IPO) treated specifications of goods for which registration was sought or granted. OHIM's pracice was to accept class headings as being claims to registration in respect of all goods and services within that heading, while the IPO objected to wide and vague specifications and also took a relatively literal approach to what the class headings cover. The Deputy Judge noted that he did not think that there was room for such a divergence to co-exist in the European trade mark system, and for these purposes led to a real issue that could not be decided via a summary judgment. Posted by: Blog Administrator @ 05.59
Tags:
Nice Classification
,
procedure
,
United Kingdom
,



Sharing on Social Media? Use the link below...
Perm-A-Link:
https://www.marques.org/blogs/class46?XID=BHA1102
Reader Comments: 0
Post a Comment
MARQUES does not guarantee the accuracy of the information in this blog. The views are those of the individual contributors and do not necessarily reflect those of MARQUES. Seek professional advice before action on any information included here.
The Class 46 Archive