CLASS 46

Now in its twelfth year, Class 46 is dedicated to European trade mark law and practice. This weblog is written by a team of enthusiasts who want to spread the word and share their thoughts with others.
Who we all are...
THURSDAY, 5 MARCH 2009
Validity of publication title trade marks in France: a discrimination in the FEMME and GAY cases?
According to two decisions issued in 2008 by the Cour de Cassation (French supreme court), GAY is not distinctive for on-line publications aimed at the gay community, while FEMME is a valid mark for a printed publication aimed at feminine readers.

The first case deals with the validity of two trade marks consisting of or including the term GAY.
It was brought by Néocom Multimédia, owner of the following trade marks:

GAY

, word mark filed on 11 March 1994 and registered under n°94 510 806 in classes 35 and 41, for "

Advertising; commercial business management; commercial administration; office work; distribution of prospectuses, samples; consultation, information or business information; accounting; document reproduction; employment agencies. News agencies and information; telex, telefax, telegram; videotext, teletext; rental of apparatus for diffusion messages; service of radio calls electric. Education; training; sports activities and cultural; book publishing, magazines, book lending; games; games casino; movie studios and recordings; organisation of exhibitions for cultural purposes or educational. Computer programming; reporter services; filming on video tapes; management of exhibitions.

"
GAY Infos Magazine and device

, filed on 14 September 1989, registered under n° 1 572 898 in classes 35 and 41 for: "

Advertising, telematic, data processing services, telematics, video, teleinformatics, central server telematic; recording services, transcription, composition, compilation, classification and recordings programs of information, data statistics, advertising matter, published mentioned and index cabinets in particular for consultation by terminals video user; rental of terminals; radio broadcasting, telegraphic, telephone, video, telematics; teleprinting; message sending in particular in frame telematics services, telefax and teletext, diffusion of information; radio programs or all by means of television; communication for terminals telematics in particular in frame entertainment, education and broadcats and televised games or in connection with these. Telematic services allowing access to data banks computer

."
Néocom is also the owner of a "telematic" code "3615 Gay" and had registered the domain name gay.fr in December 1995. A word about pre-internet era communication technology in France: codes such as 3615 GAY (starting with a four digit phone number) were used to access interactive on-line servers. In those days of the 1980s, France Télécom had provided telephone line subscribers with a terminal called "
Minitel
", consisting of a black and white screen, a keyboard and a modem. And of course prior to trade mark versus domain names disputes, French courts had to deal with trade mark versus "Minitel codes" disputes. But enough for the nostalgia.
Defendants Planetout Partners France, Planetout Partners Inc, Pridecom productions LLC and Planetout USA Inc, run web sites at www.fr.gay.com and gay.net. They allegedly infringed the trade marks. Harm to the Minitel code and domain name was also invoked under unfair competition claims. Nullity of the trade marks was at stake in a counter-claim.
Both trade marks were cancelled by the appeal court decision, which the supreme court upholds with the following motivation (unofficial translation):
on the word & device mark:
"having examined the litigious trade marks, in their globality, the contested decision finds that the term Gay has been commonly used in France for several years, and, anyway before the application was filed, and it is not contested that the word part Gay infos magazine is the dominant element; [the contested decision] also finds that for the relevant audience, namely the homosexual community, the terms Gay infos magazine are not simply evocative of whom the products and services listed in the registration are aimed at, but are devoid of any distinctive character"

("ayant examiné l'ensemble des marques en litige, dans leur globalité, l'arrêt relève que le terme Gay est un terme communément utilisé en France depuis de nombreuses années, et, en tout cas, antérieurement au dépôt de la marque, et qu'il n'est pas contesté que la partie verbal Gay Infos magazine constitue l'élément dominant ; qu'il retient encore que pour le public de référence à savoir la communauté homosexuelle, les termes Gay infos magazine ne sont pas seulement évocateur de celui en direction duquel les produits et services visés à l'enregistrement sont destinés, mais dépourvus de tout caractère distinctif")
[the court of appeal] "having found that, even if -according to Néocom-, an existing term with a specific signification can be a valid trade mark, when it was registered the litigious trade mark was nevertheless aiming at an end user of the claimed goods, that is to say a member of the homosexual community; the appeal court rightly held that this circumstance deprived the litigious trade mark of any distinctive character"


("ayant relevé que si, comme le soutient la société Néocom multimédia, un terme existant ayant une signification particulière peut constituer une marque valable par rapport aux produits et services qu'elle désigne, il n'en demeure pas moins que la marque litigieuse visait, dès son enregistrement, un utilisateur final des services désignés, c'est-à-dire un membre de la communauté homosexuelle ; que la cour d'appel en a déduit , à bon droit, que cette circonstance privait la marque litigieuse de tout caractère distinctif")
Similarly no monopoly could be claimed on domain names consisting in a "banal and common word used in order to identify the public to whom the site is aimed at, when there is no likelihood of confusion in the consumers mind".

This decision of the Cour de Cassation, issued on 8 April 2008, can be downloaded from Legifrance.gouv.fr.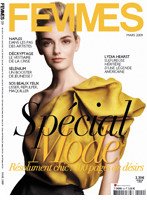 In the second case, Prisma Presse invoked the word mark FEMME ("woman", in French) filed on 16 October 1995, registered in class 16 and used as the title of the French edition of a magazine aimed at women. Prisma sued Lyon Mag and Nouvel Ouest for trade mark infringement as the defendants had been editing magazines entitled "Bordeaux Femmes", "Nantes Femmes", "Angers Femmes" and "Rennes Femmes". Not surprisingly, their defence consisted in a counter-claim requesting the mark to be declared null.

The French supreme court rejects Lyon Mag and Nouvel Ouest recourse and upholds the decision of the appeal court.

The significant part of the Cour de Cassation decision could be (unofficially) translated as follows:

"after finding that the products listed in the registration were newspapers and periodicals, magazines, journals, books and publications, the [court of appeal] ruling holds that at the time the mark was filed, the term "femme" was not the generic designation of these products, and that the sign was merely evocative of the audience aimed by the publication; such findings, showing that the mark was, with respect to products listed in the registration, not generic, nor did it describe their characteristics, the appeal court could decide as it did"

("après avoir constaté que les produits désignés à l'enregistrement étaient les journaux et périodiques, magazines, revues, livres et publications, l'arrêt retient qu'à la date du dépôt de la marque, le terme Femme ne constituait pas la désignation générique de tels produits, et que le signe était tout au plus évocateur du public visé par la publication ; qu'en l'état de ces constatations, dont il résulte que la marque n'était, au regard des produits visés à l'enregistrement, pas générique, et qu'elle n'en décrivait pas les caractéristiques, la cour d'appel a pu statuer comme elle a fait")
This decision issued by the Cour de Cassation on 16 December 2008 can be downloaded from Legifrance.gouv.fr.
Rather than discrimination, it's dissonance that first comes to mind when dissecating these decisions. Would readers be distraught and disagree? What would you say on the distinctiveness of the distaff trade mark for instance?

Posted by: Frédéric Glaize @ 00.44
Tags:
cour de cassation
,
distinctiveness
,
France
,



Sharing on Social Media? Use the link below...
Perm-A-Link:
https://www.marques.org/blogs/class46?XID=BHA1032
Reader Comments: 0
Post a Comment
MARQUES does not guarantee the accuracy of the information in this blog. The views are those of the individual contributors and do not necessarily reflect those of MARQUES. Seek professional advice before action on any information included here.
The Class 46 Archive