CLASS 46

Now in its twelfth year, Class 46 is dedicated to European trade mark law and practice. This weblog is written by a team of enthusiasts who want to spread the word and share their thoughts with others.
Who we all are...
TUESDAY, 10 MARCH 2009
UK IPO fee changes - demystified
Following our recent flurry of posts (
here
and
here
) concerning the UK IPO's planned changes to its fee structure, Class 46 has been contacted by several readers who have kindly pointed out that the
Financial Times
piece concerning this topic was only partly correct (see Class 46 post
here
). To clarify: the implementation of these plans is
not
imminent. Class 46 most notably thanks
Tibor Gold
for the information which he has sent.
This member of Class 46 has also come across some interesting rumours concerning the UK IPO's plans, which can be demystified by having a closer look at the
UK IPO's consultation paper
, in particular its executive summary:
"Application Fees and Services

Proposal 1
To introduce an "Early Assist" application service package for trade marks. This would have the following features:

(i) Help available over the telephone to assist applicants complete the application form;

(ii) E-filed trade mark applications (only) paying 50% of the standard application and class fees at the time of filing would be examined for registrability (including a search for earlier marks) and an examination report issued, thus allowing the applicant a choice as to whether to proceed to publication or to contest the examiner's assessment (after paying the balance of the standard application fees) or to let the application lapse;

(iii) If there are any objections or problems with the application, the applicant would have an opportunity to informally discuss these with an examiner before making a decision as to whether to proceed with the application  ...

Proposal 2a
To offer a reduction in the application fees for e-filed trade mark applications where all the application fees are paid at the time of filing ....


Proposal 3
To abolish applications for series of trade marks altogether; alternatively, to introduce a fee supplement of £50 for each mark in a series beyond the first two.

[Class 46 comment: interesting are particularly Q7/Q8/Q9 below. This German member of Class 46 is quite intrigued by series marks and personally wonders whether this uniquely British and Irish quirk is not worth maintaining]

Q.7: Is there a continued need for the registration of series marks?

Q.8: Would you be willing to pay more to be able to apply for registration of a series of trade marks?

Q.9: As it costs us more to examine an application to register a series of trade marks than an application for a single mark, should we charge a supplement for the examination of a series?

Proposal 4
To withdraw the trade marks fast-track examination service altogether or, alternatively, to permit its suspension in particular circumstances. ...

[Class 46 wonders whether the fast-track examination service was not that successful.  Do any of our readers how many fast-track application have so far been filed?]

Trade mark tribunal fees

Proposals 5, 6, 7 & 8
To reduce the opposition fee from £200 to £100, to increase the fee for extensions of time requests made on Form TM9 from £50 to £100, and to extend the same fee to a) extensions of the nine month cooling-off period, and b) requests to stay proceedings made outside of the cooling-off procedure ..."

Class 46
has also heard
unconfirmed
rumours that the proposed changes are to be effective from 1 October 2009. This rumour might be supported by the below excerpt from the Annex to the Consultation paper: "
On what date will the policy be implemented? 1/10/09
".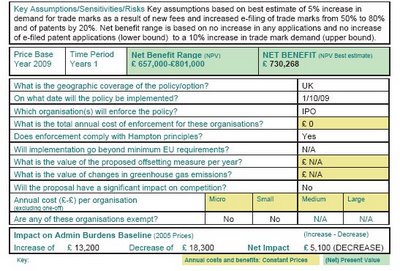 Posted by: Birgit Clark @ 21.41
Tags:
fee cuts
,
official fees
,
UKIPO; UK trade marks
,



Sharing on Social Media? Use the link below...
Perm-A-Link:
https://www.marques.org/blogs/class46?XID=BHA1018
Reader Comments: 0
Post a Comment
MARQUES does not guarantee the accuracy of the information in this blog. The views are those of the individual contributors and do not necessarily reflect those of MARQUES. Seek professional advice before action on any information included here.
The Class 46 Archive