CLASS 46

Now in its twelfth year, Class 46 is dedicated to European trade mark law and practice. This weblog is written by a team of enthusiasts who want to spread the word and share their thoughts with others.
Who we all are...
WEDNESDAY, 8 JUNE 2022
World Anti-Counterfeiting Day 2022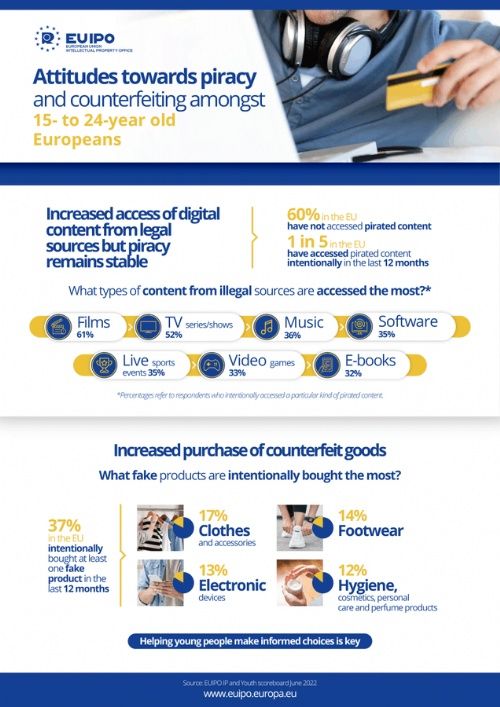 Today (8 June 2022) is World Anti-Counterfeiting Day.
To mark the occasion, the EUIPO Observatory is launching a pan-European awareness campaign.
This is accompanied by the publication of the third edition of the IP Youth Scoreboard, which provides an update on IP infringement behaviours of 15-to-24 year-olds across the EU.
The Executive Summary, press releases and infographic in the 23 EU languages are available on EUIPO's website here.
IP Youth Scoreboard findings
The new survey found that 37% of young people bought one or several fake products intentionally in the last 12 months, a significant increase compared to the previous results.
The counterfeit products that young people most commonly buy intentionally are clothes and accessories (17%), followed by footwear (14%) electronic devices (13%), and hygiene, cosmetics, personal care and perfumes (12%).
It also found that intentional piracy remains stable, with 21% of young consumers acknowledging they accessed pirated content on purpose in the last 12 months.
However, access from legal sources is gaining ground among the younger generations: 60 % claimed to have not used, played, downloaded or streamed content from illegal sources in the past year, compared to 50% in 2019 and 40% in 2016, thus confirming the trend.
Spread the message!
MARQUES strongly supports these activities. In particular, the Anti-Counterfeiting and Parallel Trade Team was involved in the stakeholder consultation on the IP Youth Scoreboard last February.
We encourage all members to share the information and help spread the message about World Anti-Counterfeiting Day.
ACPT Team Chair Petra Herkul said: "Brand owners spend a lot of resources on fighting the sale of counterfeit products. Someone once explained it as mopping with the tap open, but if you do not mop you will get a flood. As long as there is a need from buyers, sellers will keep (re)appearing. Addressing counterfeits starts with understanding the buyers and making these buyers aware of the issues related to the selling and buying of counterfeit products. The IP Youth Scoreboard will help obtain this buyer understanding whereas the awareness campaign will support us in creating better understanding of the issues. Let's all share this valuable supporting information."
Posted by: Blog Administrator @ 09.01
Tags:
anti-counterfeiting
,
piracy
,



Sharing on Social Media? Use the link below...
Perm-A-Link:
https://www.marques.org/blogs/class46?XID=BHA5092
Reader Comments: 0
Post a Comment
MARQUES does not guarantee the accuracy of the information in this blog. The views are those of the individual contributors and do not necessarily reflect those of MARQUES. Seek professional advice before action on any information included here.
The Class 46 Archive