CLASS 46

Now in its twelfth year, Class 46 is dedicated to European trade mark law and practice. This weblog is written by a team of enthusiasts who want to spread the word and share their thoughts with others.
Who we all are...
MONDAY, 7 JUNE 2021
Africa is rising - Book review: Marius Schneider & Vanessa Ferguson, Enforcement of Intellectual Property Rights in Africa (Oxford University Press, 2020)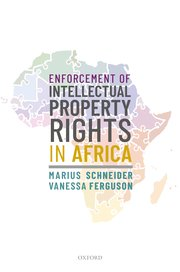 Book review: Marius Schneider & Vanessa Ferguson, Enforcement of Intellectual Property Rights in Africa (Oxford University Press, 2020)
Living in Helmond, The Netherlands, Africa is closer by for your Marques' Class46 reviewer as this blog audience based on a geographical approach alone might possibly think. Just around the corner of our house, so to speak, next to the beautiful Helmond castle, are the factory buildings and the offices of Vlisco. Vlisco is renowned for its fabrics with colorful and intriguing artworks printed on them. The fabrics commonly known as Dutch wax prints are very much loved and used in clothing which has obtained an haute couture status throughout the African continent (foremost in West African markets). The clothing made with Vlisco fabrics thus becoming also known as 'the Chanel of Africa'.
Reportedly the fabrics of Vlisco attracted and do attract 'blind' copying thereof by other manufacturers, forcing Vlisco to stand up against this practice. Needless to say, that solid intellectual property rights and proper functioning legal systems can be key to protect manufacturers against such copying in African countries.
The Vlisco business case is shortly highlighted by Schneider and Ferguson in their magnum opus (covering nearly a thousand pages) Enforcement of Intellectual Property Rights in Africa (which is the object of this review) in view of a quite curious phenomenon which apparently occurs in some African markets, namely that consumers are better aware of counterfeit names than of the original well-known brands (so for example Clavin, Samsong, and Sunny instead of Calvin Klein, Samsung, and Sony - Schneider & Ferguson, p. 16) and the copying of products of 'local' entrepreneurs and firms.
According to Schneider and Ferguson '(t)his problem is particularly acute for wax cloths which are copied in China and sold in Africa. Counterfeit wax cloth companies copy the design and trade mark without authorization. A news website reported that 79 per cent of wax cloth sold in Togo are Chinese counterfeits, amounting to 742 million metres of fakes sold each year to consumers attracted by the competitive price of Chinese fabrics. Counterfeit wax cloth has impacted many people and companies, from the wax print distributors or Mama Benzes [a nickname referring to female wax distributors in West Africa, being the distribution a highly profitable female occupation, affording riches and Mercedes Benz to the Mama Benzes - clarification by Schneider and Ferguson, GvR], as they are known, to local wax manufacturers.'
The impact of hard and fast counterfeiting and piracy can hardly be underestimated. Africa is rising - as Schneider and Ferguson write in 'Understanding the Real Problem of Fakes in Africa, a 30 pages exposé with which they kick off this 'Fundgrube' for African intellectual property law, followed not only by a country by country approach and overview, but including also (the works of) multilateral African organizations and its legal instruments (the African Regional Intellectual Property Organization - ARIPO - and Organisation Africaine de la Propriété Intellectuele -OAPI).
In the introductory exposé - one which I loved reading - Schneider and Ferguson clarify that Africa's emerging economies present exciting opportunities for right holders. Schneider and Ferguson reflect on these opportunities with an eye on certain particularities and forces in their view operative in African markets and countries which should be considered. The free movement of counterfeit goods in and across Africa goes beyond the African continent, according to the Schneider and Ferguson, which seems to go hand in hand with the worrying trend of the establishment of free-trade zones in Africa. Such free-trade zones apparently being a breeding ground which can easily be used also to facilitate the trade in counterfeit goods to Europe and the United States. Especially as Schneider and Ferguson establish that in Africa resources for enforcement (of intellectual property rights) are often limited and 'the desire to attract foreign investment and to create local employment is strong, policing is weak.'
This 'landscape' comes - so argue Schneider and Ferguson - with specific factors which enable counterfeit and challenges of IP enforcement in Africa, like porous borders, corruption and bribery, limited resources available to enforcement agencies, little cooperation between different authorities within and amongst African states, absence of efficient Customs enforcement mechanisms in many African countries, advances in technology and online marketplaces which have allowed counterfeiters to fine-tune their manufacturing, sale and distribution networks, the increase in trade and investment between China and Africa, developing legal frameworks and the lack of specialized courts for intellectual property infringements.
But be sure that Africa is not a safe haven for counterfeiters: Schneider and Ferguson point out that in recent years 'a substantial number of measures and innovations have been implemented that support effective IP rights enforcement and anti-counterfeiting strategies in Africa.' They spot a growing awareness in Africa for the value of IP rights and the need to protect such rights in Africa. Countries are reviewing and amending their domestic IP laws, making them compliant with obligations arising from international regulations (treaties). Next to that countries set up IP policies to align domestic laws with international commitments and best practices. There is an ongoing legislative process aimed at for example better protection for well-known trade mark and implementing anticounterfeit measures (seizure for example by Customs). Furthermore specialized anti-counterfeiting agencies are established, whilst by training and awareness initiatives the protection of IP becomes top of mind. Besides that, new technologies like blockchain are adopted and become available in anticounterfeit strategies of countries.
Schneider and Ferguson close the introductory essay with some useful tips and tricks for rights holders, especially trade mark right owners, the final one - which sums it all up - being: '(…) retain specialized advisers who clearly understand the subtleties of the local law and practice to ensure their IP rights are properly on the African continent.' And there are indeed subtleties that needs attention. Be aware that proceedings for the registration of IP may be a lengthy process, safeguard all involved paperwork to evidence your registrations ('Many African IP registers are still in paper format'), follow up your registrations (use your IP in so far as required, think of genuine use of trade marks), maintain your own integrity and follow due process if corruption occurs, keep good contacts and work together with Customs, regulatory bodies. Think and act with deep respect for local cultures and empathy for local law.
In a second step Schneider and Ferguson reflect on the already mentioned regional African intellectual property organizations ARIPO and OAPI, their status and the legal instruments it has created for the registration and enforcement of intellectual property rights in the Member States.
Last but not least - because that is really 'la pièce de résistance' of this book - Schneider and Ferguson dive into the 'local' intellectual property laws of all 54 countries of Africa in alphabetical order being Algeria, Angola, Benin, Botswana, Burkina Faso, Burundi, Cameroon, Cape Verde, Central African Republic, Chad, Comoros, Congo, Democratic Republic of the Congo, Djibouti, Egypt, Equatorial Guinea, Eritrea, Eswatini (formerly Swaziland), Ethiopia, Gabon, Gambia, Ghana, Guinea, Guinea-Bissau, Ivory Coast, Kenya, Lesotho, Liberia, Libya, Madagascar, Malawi, Mali, Mauritania, Mauritius, Morocco, Mozambique, Namibia, Niger, Nigeria, Rwanda, Sao Tomé and Principe, Senegal, Seychelles, Sierra Leone, Somalia (including Somaliland), South-Africa, South Sudan, Sudan, Tanzania (Mainland Tanzania and Zanzibar), Togo, Tunisia, Uganda, Zambia and Zimbabwe.
This part of the book is a real 'Fundgrube' for obtaining a concise and overall overview of the IP laws, regulations and proceedings applicable in said countries. Schneider and Ferguson strive for dealing with the matter according to a fixed pattern. In each country overview Schneider and Ferguson with a factual and legal background sketch followed by clear explanations regarding the enforcement of intellectual property rights (mostly as far as possible Schneider and Ferguson try to focus on trademarks, patents and copyright), unfair competition and Customs enforcement of intellectual property rights.
The book comes with a detailed index, a table of cases and a table of legislation.
I'm going to wrap up: Schneider and Ferguson have completed in a successful way what must have been a Sisyphus task. One can see and read that Schneider and Ferguson have worked meticulously in order (as Schneider and Ferguson put first in the preface of the book) to 'disseminate knowledge to colleagues and right holders, to encourage governments, judges, and law enforcement authorities to foster best practices, to give confidence to companies to grow their African markets and to preserve their intellectual property (IP) rights, to further research by providing academics with an authoritive resource on IP enforcement in Africa, and to encourage public-private collaboration in developing best practices in relation to protection and enforcement of IP'.
The African proverb which Schneider and Ferguson place at the top of the Preface says it all and reflects the spirit which runs like a thread through the book: 'Knowledge is like a field: if it is not cultivated it cannot be harvested.'
Schneider and Ferguson cultivated and harvested well: Africa is rising!
Gino van Roeyen
attorney-at-law
LAWNCH
Posted by: Gino Van Roeyen @ 08.50
Tags:



Sharing on Social Media? Use the link below...
Perm-A-Link:
https://www.marques.org/blogs/class46?XID=BHA5000
Reader Comments: 0
Post a Comment
MARQUES does not guarantee the accuracy of the information in this blog. The views are those of the individual contributors and do not necessarily reflect those of MARQUES. Seek professional advice before action on any information included here.
The Class 46 Archive