CLASS 46

Now in its twelfth year, Class 46 is dedicated to European trade mark law and practice. This weblog is written by a team of enthusiasts who want to spread the word and share their thoughts with others.
Who we all are...
TUESDAY, 5 JANUARY 2021
Warning over fake COVID-19 vaccines
EUROPOL recently published an Early Warning Notification regarding vaccine-related crime during the COVID-19 pandemic.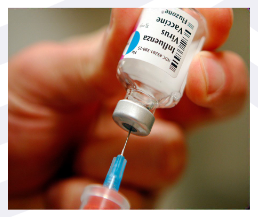 The notification warns that organised crime groups may be preparing to produce counterfeit vaccines, spread disinformation about vaccines and illegally refill vials. It also notes that some dark web markets already feature adverts for fake COVID-19 vaccines.
In addition, the notification states: "Genuine COVID-19 vaccines will be highly valuable commodities and their supply chains (storage, transportation and delivery) will be at risk of being targeted by criminals seeking to obtain these pharmaceutical products."
All of these activities are considered a serious threat to public health.
In October last year, the WHO issued a Medical Product Alert regarding three batches of the influenza vaccine Fluzone found in Mexico, which were not authorised by the manufacturer Sanofi Pastuer.
EUROPOL is seeking to encourage vigilance on the possible involvement of criminals in the vaccine development and distribution process.
Pharmaceutical companies, trade associations and others can support enforcement authorities by filing Customs applications for action and sending information to the IP Enforcement Portal. On 12 December EU Customs issued an urgent call to rights holders of COVID 19-related products.
If any Class 46 readers have information about fake COVID-19 or flu vaccines, medicines or personal protection equipment being advertised or sold online or on social media, they are encouraged to contact EUROPOL or national health authorities.
Posted by: Blog Administrator @ 12.14
Tags:
COVID-19
,
influenza
,
,



Sharing on Social Media? Use the link below...
Perm-A-Link:
https://www.marques.org/blogs/class46?XID=BHA4955
Reader Comments: 0
Post a Comment
MARQUES does not guarantee the accuracy of the information in this blog. The views are those of the individual contributors and do not necessarily reflect those of MARQUES. Seek professional advice before action on any information included here.
The Class 46 Archive