CLASS 46

Now in its twelfth year, Class 46 is dedicated to European trade mark law and practice. This weblog is written by a team of enthusiasts who want to spread the word and share their thoughts with others.
Who we all are...
WEDNESDAY, 23 DECEMBER 2020
Washington and Cleveland football teams review names
Janet Satterthwaite reports on the latest developments regarding the rebranding of the Washington Redskins and Cleveland Indians.
Sometimes we need to be grateful for a win, even if it's not for all the right reasons. In this case, the Washington football team is changing its name from THE REDSKINS because of a general backlash against all kinds of racism, as opposed to the narrower and long-running cause of indigenous rights and trade marks.
The REDSKINS name
The Washington DC National Football League Franchise is called the Redskins. They have a logo that is offensive to many people. Yet they have, until recently, refused to consider changing the name.
They, and the League, which actually owns the trade marks, recently defended and won the right to maintain REDSKINS in registered trade marks, after the Supreme Court, in another case involving an Asian slur (Matal v Tam), agreed that the US law against registration of offensive marks violated free speech.
This case was resolved only recently, in 2017, and many people wondered if regardless of the win, the team would nevertheless feel social pressure to change its name. But the owners, even in 2017, showed no interest in changing the name. As Time Magazine put it in an editorial by the executive Director of the National Congress Of American Indians and the Oneida Indian nation:
Here is a good rule of thumb: If your team name requires a landmark court order protecting racist hate speech, then it is a signal you should change your team's name…. And yet in response to the ruling, the team's billionaire owner, Dan Snyder, declared "I am THRILLED!" ('The NFL Needs to Stop Promoting a Racial Slur,' TIME, 26 July 2017)
A short history
This has been a longstanding issue (see this timeline in the Washington Post). As early as 1972, Native Americans had met with the team to ask them to change the name, but nothing happened.
These are drawings of some of the registered trademarks: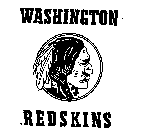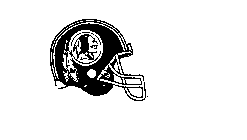 In 1992, there were more protests by Native Americans when the team was in the championship game. Various attacks on the trade mark registrations followed.
In 2013, The team owner, Dan Snyder, told USA Today: "We'll never change the name. It's that simple. NEVER. You can put that in all caps."
President Obama told the Associated press that same year that he would think about changing the name if he were the owner.
Black Lives Matter
But then in 2020, along came the huge surge in the Black Lives Matter movement after yet another murder by police of an unarmed African American citizen, George Floyd. Crowds of people across American emerged from pandemic isolation to protest racism and brutality by police. The Mayor of Washington DC had the words BLACK LIVES MATTER painted on the street in front of the White House, whose resident is known for conservative views on the matter.
Moreover, the Mayor of Washington DC said that a new stadium to be built on federal land would not go forward absent a name change.
Almost every corporation in America put out a statement disavowing racism and promising to adopt better policies to address it and rethinking logos that might be racially insensitive.
Sponsors of the team also faced pressure from their shareholders not to advertise or do business with a football team called THE REDSKINS.
In early July 2020, FedEx demanded that the team change its name. "The company's request [came] less than a week after a group of more than 85 investment firms and shareholders representing $620 billion in assets called on FedEx, Nike and PepsiCo to sever ties with the team unless Snyder changes its name."
A new name
On 3 July 2020, the team announced that it was undergoing "a review" of the team name, which means that it will be changing the name. Trade mark lawyers are eagerly scanning the USPTO database for new applications that might represent stealth filings by surrogates of possible new names.
The temporary name is WASHINGTON FOOTBALL TEAM. A quick look at the USPTO website for filings in the name of Pro Football reveals an application filed on 23 July 2020 for WASHINGTON FOOTBALL TEAM based on intent to use. (Will this be refused as merely descriptive?)
The url redskins.com now redirects to washingtonfootball.com, where the Redskins logo is absent except in photos of past events.
So while this change did not come about directly through efforts to raise awareness of and combat trade marks and brands that are offensive about indigenous peoples, it did get swept up in a broader movement by corporations to address racial bias and insensitivity in general.
Cleveland Indians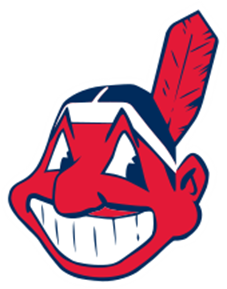 Meanwhile, in December 2020, the Cleveland Indians major league baseball team also is reported to be planning a name change, but not until 2022. Fortunately, the team has already started moving away from its offensive Chief Wahoo Logo (pictured), a grotesque cartoon which could be seen all over the city from the outside of the stadium.
As the New York Times reported: "Other professional sports teams, including the Atlanta Braves, the Kansas City Chiefs and the Chicago Blackhawks, have said in recent months that they have no plans to change their names. Many universities and high schools abandoned Native American mascots long ago, but efforts to address the names at all levels of sport in the United States have increased in recent months."
By Janet Satterthwaite, Potomac Law Group, Washington DC, and Member, IP Emerging Issues Team
Posted by: Blog Administrator @ 17.35
Tags:
Redskins
,
Cleveland Indians
,
FedEx
,
,



Sharing on Social Media? Use the link below...
Perm-A-Link:
https://www.marques.org/blogs/class46?XID=BHA4954
Reader Comments: 0
Post a Comment
MARQUES does not guarantee the accuracy of the information in this blog. The views are those of the individual contributors and do not necessarily reflect those of MARQUES. Seek professional advice before action on any information included here.
The Class 46 Archive