CLASS 46

Now in its twelfth year, Class 46 is dedicated to European trade mark law and practice. This weblog is written by a team of enthusiasts who want to spread the word and share their thoughts with others.
Who we all are...
THURSDAY, 7 MARCH 2019
Tough territories for trade mark examination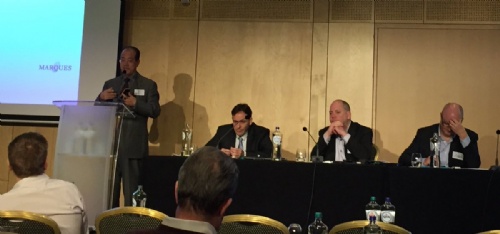 Practitioners from Israel, the US, Switzerland and China provided tips on overcoming trade mark examiners' objections at a workshop at the MARQUES Spring Meeting titled "50 shades of international trade mark examination".
The Spring Meeting is taking place in Amsterdam from 7 to 8 March. More than 100 Council and Team members are attending.
The workshop was organised jointly by the Education Team and the International Trade Mark Law and Practice Team. It was recorded and the video will be made available on the MARQUES website soon.
Ehud Gabrieli of Seligsohn Gabrieli & Co discussed challenges in Israel, which joined the Madrid System in September 2011. He said that Israel has a common law system, and that Supreme Court precedents often take into account US and UK decisions.
About 54% of trade mark filings in Israel are International Registrations. Roughly 45% of these IRs are provisionally refused, but 70% of those are recovered. One cause of provisional refusals is the use of broad phrases in the classification, particularly in popular Nice classes such as class 9 and class 5. These can be overcome by limiting the goods or using the house mark.
Another common reason for provisional refusal is the use of names of places. However, this can often be overcome if you can show that the mark is not the exact geographic name or is not primarily a geographic name. For example, the mark Divonne was accepted despite the place name Divonne-les-Bains.
Similarly, refusals based on surnames can sometimes be challenged by showing that the mark is not really a surname in the country of origin, or is only rare. For example, OKI was shown to be a rare surname in Italy. The marks ONEGIN, HIROSE and UHLMANN were also accepted based on analysis of the Israeli telephone directory.
Michael Leonard of Fox Rothschild LLP in the United States reviewed the pros and cons of the different bases for registration in the US, namely:
Use in commerce
Intent to use in commerce
Home country application
Home country registration
International Registration
Formalities examination accounts for most of the 97% of US IR designations that are provisionally refused. USPTO examiners take a strict approach and objections to descriptions of use are very common. The best way to counter these is to prepare well in advance.
Other challenges in the US include the use of disclaimers and the improper identification of the applicant or its entity, for example using the wrong company name or suffix. "We share your frustration!" said Michael.
Applications can also be objected to because they are "deceptively misdescriptive": GUMMY BITES for a dog treat was refused, for example. Other common reasons for refusal are geographic descriptiveness: (eg YOSEMITE BEER) and being geographically misdescriptive (eg ARGENTINA for meat from the Philippines).
Michael said that acquired distinctiveness gets round many, but not all, of these objections. However, it can be challenging to prove if you do not have at least five years of use. The Supplemental Register is also a possibility where there is use in commerce and/or a home country registration.
Switzerland also has unique challenges, including the fact that there are many bilateral agreements that can be cited by trade mark examiners. Many big multinationals are based in Switzerland, so it is logical to start their international filing strategy at the Swiss office, but the high rate of refusals presents a problem for them.
There are around 16,000 IR marks designating Switzerland, said Bernard Volken of Fuhrer Marbach. Similar to Israel, there are 40% provisional refusals but in 70% of these cases the refusal is resolved. In 60% of provisional refusals, the reason given is that the mark is in the public domain. "It's worth defending in Switzerland because you have a high probability of success," said Bernard.
Geographical terms are particularly difficult, he added. For example, registration of the PARIS ST GERMAIN mark took three years. Other notable refusals include SIBIRICA (Siberia) and TRAINSCANNER, as well as several 3D and colour trade marks such as the Louboutin red shoe (where acquired distinctiveness was not claimed).
If you do get a refusal in Switzerland, there are some tricks: one is to apply for an "appealable decision" which can lead directly to the mark being accepted and does not require payment of any fees.
Yunze Lian of Jadong IP Law Firm discussed how to overcome refusals in China. In 2018, there were 7.3 million applications, almost three times the number in 2015, with 51% refusals. One person filed 5,746 trade mark applications in 11 months.
Common reasons for refusal include no intention to use (particularly where the applicant is making hundreds of applications) and use of non-standard goods/services in the CTMO classification (except for IRs). Lian said it is also "very important" to understand the Chinese sub-class system.
Ways to overcome refusals in China include providing evidence of use, the existence of a well-known trade mark, agent or business contacts, prior rights or letters of consent and registering Chinese marks.
Posted by: Blog Administrator @ 12.23
Tags:
Madrid System
,
IR
,
provisional refusals
,
examination
,
Perm-A-Link:
https://www.marques.org/blogs/class46?XID=BHA4717
MARQUES does not guarantee the accuracy of the information in this blog. The views are those of the individual contributors and do not necessarily reflect those of MARQUES. Seek professional advice before action on any information included here.
The Class 46 Archive