CLASS 46

Now in its twelfth year, Class 46 is dedicated to European trade mark law and practice. This weblog is written by a team of enthusiasts who want to spread the word and share their thoughts with others.
Who we all are...
WEDNESDAY, 24 OCTOBER 2018
Question the Trade Mark Judges 2018 (updated)
This post was updated on 5 November 2018 with additional comments (in italics). Note that a video of the meeting has been uploaded by UCL-IBIL on YouTube.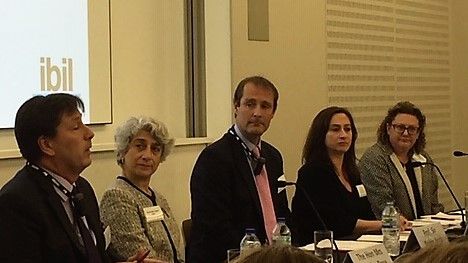 The annual Question the IP Judges event took place at UCL in London on 18 October. Hosted jointly by UCL-IBIL and MARQUES, it again provided perspectives on a range of IP issues from four judges – each of whom brought different experiences and views.
The judges taking part this year were:
HHJ Melissa Clarke (Senior Circuit Judge, Designated Civil Judge for Thames Valley, Beds & Herts)
Judge Octavia Spineanu-Matei (General Court, Court of Justice of the European Union)
The Hon Mrs Justice (Vivien) Rose (England & Wales High Court)
Harri Salmi (EUIPO Boards of Appeal member)
The discussion was introduced and chaired initially by Roland Mallinson of the MARQUES Council, and subsequently by The Rt Hon Professor Sir Robin Jacob of UCL.
The discussion was structured around questions that had been submitted in advance by the audience. Some of the questions were:
How much training do you get as a judge? Romania is a country where people tend to become judges early in their career, but at the General Court career-judges are in the minority: more judges have a background as an academic or advocate. In the UK, it is still the norm for people to become judges towards the end (or, if you prefer, "at the height") of their legal career. However, training has increased lately and there is now a Judicial College, led by specialist judges. At EUIPO, members of the Boards of Appeal must have at least 10 years experience in IP, including five years in trade marks. Most but not all are legally trained (one is an architect by training) and on a panel of three, at least two must be legally trained.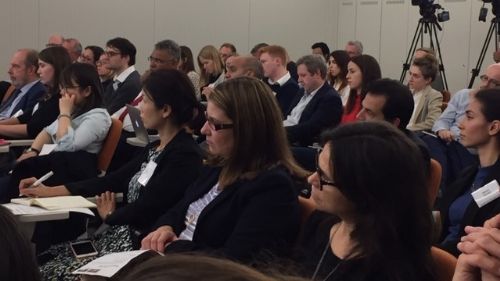 How do you react when you get a trade mark case? The judges variously said they find trade mark cases fascinating, entertaining, relevant to daily life and something they can talk to non-lawyer friends about. But they also noted that trade mark law can involve a lot of technical phrases and tests, and requires a combination of knowledge and intuition. The law is quite complicated (but less so than, say, competition law).
How do you view expert evidence, for example from psychologists? The judges felt the ultimate expert should remain the judge. Many aspects of the law require judges to put themselves in the place of a construct of a person, and expertise should not be allowed to encroach into areas of common sense. Moreover, it results in more expense for parties. Expert evidence must also to be taken into account alongside other factors, and must be challenged: for example, evidence from Google Analytics may be skewed if the person searching is involved in the case and has been searching for the same terms a lot.
Do you have hearings? The Boards of Appeal have only had two oral hearings in 23 years, but there will be another one on 19 November in the MONOPOLY case (R 1849/2017-2, Kreativni Dogadaji v Hasbro), which will be open to the public. Hearings are unlikely to bring additional value beyond the written documents. At the General Court, each party only has 15 minutes to present its case, plus time for questions, so although experts can be heard they rarely are in practice. However, the UK judges admitted the English courts are "addicted" to hearings and said they would regret it if they were removed: they can lead to the judge changing their mind in some cases.
What do you think of non-traditional trade marks being filed as digital files?
There was a lot of debate about whether certain things, such as a 25-second film or a voice repeating the same word, functions as a trade mark. In particular, is it distinctive and non-descriptive? And does the consumer see it as an indication of origin. Some of the panel were open to the principle, but others were highly sceptical.
For example, in the 25-second video clip of Sniper Elite showing the effect of someone being shot in the head, dissolving and dying, can this be protected as the trade mark of the game? HHJ Melissa Clarke highlighted that they were trying to protect the game mechanic but, if it was sufficiently distinctive, there would be a huge overlap with other games and films. Examples were also contemplated like the opening credits of James Bond with a gun accompanied by naked images and Pink Panther walking across the screen.
Could a sound recording be used to create a permanent right in Snow White? Sir Robin identified that there was a problem as to whether it is used as denoting origin. Would it be right for Disney to get the trade mark in Snow White?
HHJ Melissa Clarke pointed out that if a sound mark makes the sign distinctive it would not be infringed by writing it on a page.
Should disclaimers be allowed? Again, the panel (and audience) were split on this question. Disclaimers (which are available in some EU and other countries but not in the EUTM system) can help to define what is protected as a trade mark and assist the registry, but concerns were expressed that the consumer does not know what is being disclaimed. In support of disclaimers, Harri Salmi noted that the reality of the marketplace is that a mark can still be used, and often will be, even if it is not on the trade mark register.
Sir Robin reminded us of the historical significance in the UK of disclaimers and explained that monopolies such as signatures were registered narrowly. Perhaps something similar should be brought back.
What about intention to use a mark? If a trade mark application stated in the description of the mark that the trader was not going to use the mark, would it be allowed? Harri Salmi responded that they would have to allow the application in the EUIPO as that is the system in place for EU trade marks; there is an interest to protect such marks and then in five years prove use.
However, others saw value in such intention. Otherwise, where companies have funds, there may be oodles of rolling registrations without use or intention to use the trade mark.
Is the English language as well equipped as other languages? Rose J referred to the ASSOS/ASOS case and contemplated language when considering fair notional use and actual use. Take surfing clothes for young people and garments for older women. These are very general clauses. They cover a huge number of things which may not be commonly used to describe clear subsets. With reference to a customs case, Sir Robin added the example of containers. There are a variety of containers (from snuff containers to rubbish containers) and to say that all containers are the same as they all fit within the meaning of that word is mad. The English language in not good at dividing things up. This brought to mind the recent reference to the CJEU from the UK High Court in the Skykick case concerning (amongst other things) the clarity and precision of "computer software". At this point, Rose J commented that those with a daily diet of trade marks may not recognise the complexities of it for judges without such experience.
What issues will arise with a three dimensional shape which adds substantial value? Sir Robin raised the example of Château Lafite adding substantial value by using labels with famous artists' work (like Picasso and Chagall). Should such marks be registrable as trade marks? HHJ Melissa Clarke questioned whether the value was being by the wine bottle or the artists, which led to a prediction of troubled waters by Sir Robin as such subject matter is valuable for image rights too and can also be engaged.
Big thanks to Alexandra Mezulanik, Research Assistant at UCL, for providing the additional comments!
The next MARQUES Judges Event is in Finland on 26 November: details are here. Remember also that MARQUES has an Amicus Curiae Team dedicated to monitoring IP cases and filing submissions where appropriate. Find out more information on their dedicated page.
Posted by: Blog Administrator @ 11.23
Tags:
UCL-IBIL
,
Judges
,
Robin Jacob
,
,
Perm-A-Link:
https://www.marques.org/blogs/class46?XID=BHA4688
MARQUES does not guarantee the accuracy of the information in this blog. The views are those of the individual contributors and do not necessarily reflect those of MARQUES. Seek professional advice before action on any information included here.
The Class 46 Archive