CLASS 46

Now in its twelfth year, Class 46 is dedicated to European trade mark law and practice. This weblog is written by a team of enthusiasts who want to spread the word and share their thoughts with others.
Who we all are...
WEDNESDAY, 11 FEBRUARY 2015
Trade Mark Use Requirements: a new publication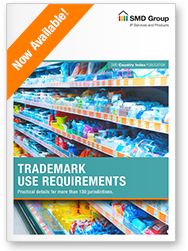 MARQUES member SMD Group has just produced, with the support and assistance of the MARQUES Trade Mark Law and Practice Team, a new publication on trade mark use requirements. This guide contains essential information on trade mark use requirements in 148 jurisdictions, supplied by more than 190 trade mark law experts worldwide. It should be handy for law firms and in-house counsel who wish to keep abreast of the various requirements across countries since its coverage include the following lines of inquiry:

* In which cases is evidence of use required (trade mark registration, renewal, non-use cancellation proceedings or other)?

* Which formal requirements must be met?

* Are there any requirements as to the nature and extent of use?

* Will it suffice to use the mark for only one or some of the designated goods or services?

* Will it suffice to show that reasonable steps to further trade have been taken?

* In what circumstances may non-use be excused?

* To whom is the evidence of use to be directed?

* By which means can use be proved?

* What are the use requirements in the event of International Registrations?

You can download this Guide as a PDF document for 99 euro plus VAT (19 %), payable via credit card (your data will be SSL encoded). MARQUES members are entitled to enjoy the benefit of a 15% discount on the purchase price on account of the organisation's input.

For further details, or to access the contents list and a sample of the text, just click here.
Posted by: Blog Administrator @ 09.49
Tags:
Trade Mark Use Requirements
,
new publication
,



Sharing on Social Media? Use the link below...
Perm-A-Link:
https://www.marques.org/blogs/class46?XID=BHA4001
Reader Comments: 0
Post a Comment
MARQUES does not guarantee the accuracy of the information in this blog. The views are those of the individual contributors and do not necessarily reflect those of MARQUES. Seek professional advice before action on any information included here.
The Class 46 Archive